Kym Hodgeman
From Snoutslouts
Career Highlights Player
GFC League Player Number: 602
GFC League Debut: Round 14, 1974
Glenelg 1974 – 1980, 1986 - 1990
Glenelg Best and Fairest 1977, 1978, 1989
Glenelg Leading goalkicker 1978, 1979
Glenelg premiership player 1986
Glenelg Hall of Fame inducted 2002
Magarey Medallist 1978
Reserves Magarey Medallist 1974
Played 9 Rep games for South Australia
SANFL Hall of Fame inducted 2002
All-Australian 1979
Career Highlights Coach
Glenelg 1991 - 1992
1992 Grand Finalist
Other Career Highlights
North Melbourne 1981 - 1985
North Melbourne Best and Fairest 1984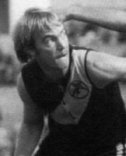 Biographical
Born: 30 July 1956
Height: 175 cm
Weight: 74 kg
Recruited from:
GFC League Debut: 1974
Guernsey Number: 24
Career
A goalkicking rover, Hodgeman established a reputation as a skilful and courageous player. He won the Reserves grade Magarey Medal in 1974 despite spending almost half the season playing in the League team.
Hodgeman won Glenelg's best and fairest award in 1977 and 1978. He also topped the club's goal kicking for seasons in 1978 (51 goals) and 1979 (32 goals). In 1978 Hodgeman won the League's highest individual award, the Magarey Medal for "fairest and most brilliant" player, polling one vote more than the renowned Port Adelaide Football Club's Russell Ebert. In 1979 Hodgeman was selected as an All Australian following that year's interstate carnival in Perth, Western Australia.
Like many South Australian players of the time, Hodgeman was lured to the more lucrative VFL, moving to North Melbourne in 1981.
Hodgeman played five seasons with the Kangaroos, winning their best and fairest award, the Syd Barker Medal (and also 'Best Clubman') in 1984. Over the five seasons Hodgeman played in 91 games, kicking the creditable tally of 133 goals.
Hodgeman returned to Glenelg in 1986, playing in a winning Grand Final side that year against North Adelaide. He won a third best and fairest award in 1989, before retiring as a player at the end of the following year.
Following the recruitment of the Glenelg coach, Graham Cornes OAM, by the newly formed Adelaide Crows, Hodgeman coached the Glenelg side in 1991 and 1992, taking them to a losing Grand Final in his last year.
Hodgeman was inducted into the Glenelg Hall of Fame in 2002.
See also
Reference