Graham Cornes
From Snoutslouts
Career Highlights
GFC League Player Number: 553
GFC League Debut: Round 19, 1967
Captained Glenelg in 1978
Member of 1973 Premiership Team
Simpson Medallist 1979
Tassie Medallist 1980
All Australian coach 1987-1988
Represented South Australia 21 times, including captain 1978,
Three time Best and Fairest for Glenelg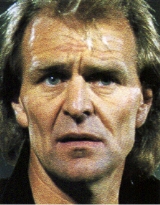 Biographical
Born: 31 March 1948
Height: 189 cm
Weight: 76 kg
Recruited from: Whyalla
GFC League Debut: 1967

Guernsey Number: 12

Graham Studley Cornes OAM (born 31 March 1948 in Victoria, Australia). Cornes was a champion with the Glenelg Football Club, between 1967-1982. He played mostly at centre half-forward. In his 317 Club games for Glenelg he kicked 347 goals and won the club best and fairest award three times.
He was a member of the Premiership Team in 1973, taking a spectacular mark in the last minutes of the game and calmly goaling to regain the lead.
He originally signed on with the VFL's South Melbourne in Victoria early in his career, but did not play in the VFL until 1979, when in the later stages of his career he played 5 games with Ron Barassi's North Melbourne before returning to South Australia. As playing coach with South Adelaide he played 47 games in 1983-1984
Coaching
He coached South Adelaide from 1983-1984, taking them to fifth both times.
He then returned to the Bay in 1985, winning Premierships in 1985 and 1986 and also taking them to three losing Grand Finals in 1987, 1988 and 1990 which was his final year.
Cornes had an astonishing record in State of Origin matches, boasting nine wins from eleven matches including six wins from eight matches coaching the South Australia team against Victoria.
1991 appointed inaugural coach of the Adelaide Crows in their first year in the AFL, until the end of 1994 when he was replaced by Robert Shaw. His highest result with the Crows was third place in 1993; his worst result eleventh in 1994.
Post Football
Cornes is now a football media personality, having appeared on the Seven Network's football coverage during the 1990s, and co hosting the FIVEaa Sports Show with first K. G. Cunningham from 1995 to 2008 and now Stephen Rowe, 2009 to current. He has also coached the All Stars in EJ Whitten Legends Games.
See also
Graham was interviewed on SnoutsLouts.org.
References