Harry Kernahan
From Snoutslouts
Glenelg Career Highlights
GFC League Player Number: 457
GFC League Debut: Round 1, 1959
Leading goalkicker 1960 (29)
Captain 1964 - 1965
Represented South Australia 10 times
Assistant coach 1971 - 1972
Glenelg Hall of Fame
Other Career Highlights
Glenelg 14 years as Secretary-General Manager 1973 - 1987.
* Stats current to end of 1971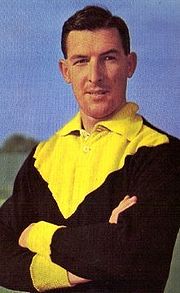 Biographical
Born: 17 October 1937
Died: 12 January 2012
Height: 192 cm
Weight: 86 kg
Recruited from:
Previous Club:
GFC League Debut: 1959
Guernsey Number: 4
Nickname: "Horse"

Harry Kernahan led Glenelg's rucks during the 1960's and at the start of the Kerley golden era. A prominent and capable administrator as well, he was at the helm as the club evolved to meet the modern financial demands of a football club.

See also:
References
2. Pride of the Bay
3. Pre-season game 1971 GFC vs Footscray program (height and weight details)