Colin Richens
From Snoutslouts
Career Highlights
GFC League Player Number: 429
GFC League Debut: Round 1, 1957
Best and Fairest 1959, 1961, 1963, 1966
Leading goalkicker 1960 (29) and 1962 (29)
Captain 1960
Represented South Australia 12 times
Glenelg Hall of Fame
SANFL Hall of Fame
* Stats current to end of 1968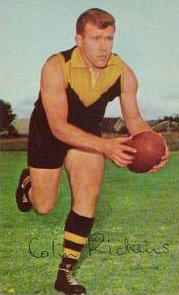 Biographical
Born: 31 March 1940
Height: cm
Weight: kg
Recruited from:
Previous Club:
GFC League Debut: 1957
Nickname: Nugget
Col Richens began his career in 1957, and quickly developed into a top line rover. Later on he re-invented himself as a rebounding back pocket player of the highest order, and it is high testimony to the quality of his play that he won club best and fairest awards and earned state representation (a total of 12 times) in both positions. Only Len Sallis and Nick Chigwidden can match Richens's record of four club champion trophies with Glenelg.
Solidly built to the point of appearing hefty, Richens was nevertheless extremely quick both off the mark and over distance, and a master of getting clear of his man. He used the ball well, with almost effortless precision, and during his early years in particular knew how to kick a goal, amassing 220 during his career, which included a club list-topping topping 29 (shared with Harry Kernahan) in 1961.
He retired at the end of his tenth league season in 1968.
Inducted into both Glenelg's and SANFL's Hall of Fame in the inaugural intakes.
See also
References
1. Pride of the Bay