Nick Chigwidden
From Snoutslouts
Career Highlights
GFC League Player Number: 714
GFC League Debut: Escort Cup, 1987
8 years as Captain (1993-2000) - the record for the longest serving Captain for the Club
4 consecutive Best & Fairest medals 1991-1994
Magarey Medal runner-up 1993 and 1999
2 State games
awarded Player Life Member status for the Glenelg Football Club and the SANFL.
Member Glenelg Hall of Fame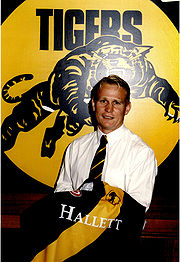 Biographical
Born: 28 September 1968
Height: 172cm
Weight: 72kg
Previous clubs: North Clare, Sacred Heart College
GFC League Debut: 1987

Guernsey Number: 21
Nickname: Chiggy
An ultra-determined, competitive, fearless rover and inspirational leader, Nick Chigwidden for many years after the arrival of the Adelaide Crows in SA football remained the heart and soul of the Glenelg Football Club.
Chigwidden played his junior football with North Clare Roosters, playing in several junior premierships. When his family moved to a sheep station in Wentworth on the NSW border Chigwidden went to Sacred Heart College as a boarder. At this time he took up junior football with Glenelg, played a little Under 17s and 19s,before making his SANFL debut against Central District in 1987.
In his early years in the League side he played alongside Chris McDermott, Tony Symonds, David Marshall, Ross Gibbs and the Stringer brothers, Alan and Wayne. He played in three SANFL Grand Finals 1988, 1990 and 1992 - losing all of them to Port Adelaide.
After 14 seasons and 293 games he retired as a player in 2000. He was captain for a club record 8 seasons, and was club best and fairest for four consecutive seasons, 1991 to 1994.
In 2005 Chigwidden was inducted into the Glenelg Football Club Hall of Fame and was president of the Club from 2012 to 2019. He was elevated to a "Great of Glenelg" in 2019, following the Club's Premiership success
See also
2. Nick Chigwidden 1999 ABC television interview
References
1. "Pride of the Bay".
2. SA Footy year book, 2000
3. 1990 Grand Final Football Budget