Len Sallis
From Snoutslouts
Career Highlights
GFC League Player Number: 67
GFC League Debut: Round 1, 1924
Glenelg, 1924 - 1935
Played in first premiership team for Glenelg 1934
Five time Glenelg best and fairest - 1926, 1930-31, 1933-34.
Played 13 matches for South Australia
Voted South Australia's most useful player and third best player of the 1930 interstate Carnival
Inducted Glenelg Hall of Fame 2002
Inducted SANFL Hall of Fame 2002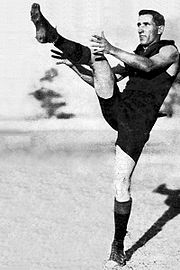 Biographical
Born: 20 August 1904, Payneham SA
Height: 177 cm
Weight: 73 kg
Recruited from:
Previous Club:
GFC League Debut: 1924
Career
Len Sallis was a brilliant centre man who featured prominently in Glenelg's first premiership in 1934.
A five time Club best and fairest winner, Len Sallis was a speedy centre man with sure handling and excellent disposal skills.
In 1924 he joined brother Cyril, who had made his league debut the previous season, at the Bay Oval. He was a key contributor in the the Club's first winning game in league football in the opening round of the 1925 season.
Sallis earned interstate selection for South Australia on 13 occasions, including participation in the 1930 and 1933 carnivals, and established a reputation as a centreman and on field leader par excellence.
In 1934 he was a big part of Glenelg's shock premiership win. Reports of the time also credited Sallis with being instrumental in beating Sturt in the Preliminary Final that enabled Glenelg to contest the Grand Final.
Indeed his form was outstanding throughout 1934, and he was rated a favourite to land the Magarey Medal. The umpires however preferred team mate, George 'Blue' Johnston, instead, but Sallis none-the-less collected the Bays Best and Fairest award for that historic season.
References
2. Pride of the Bay