Grand Final 1934
From Snoutslouts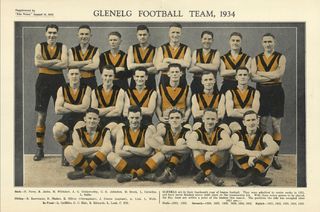 The Grand Final of 1934 was the first Grand Final contested by Glenelg. Although underdogs, they won a historic victory by 9 points over the more favoured Port Adelaide. The victory was even more memorable considering that Port had thoroughly thrashed Glenelg only a fortnight before in the Second Semi-Final.
Below are details on the Grand Final, including reviews written at the time.
GRAND FINAL Saturday 6 October 1934
Glenelg:
5.4
10.8
15.10
18.15 (123)
Port:
3.4
6.13
11.17
16.18 (114)
Goalkickers
Glenelg - Goldsworthy 4, Owens, Johnston, Colyer 3, Bergin 2, Link, Percy, Leak.
Port - Quinn 5, Hollingsworth, Prideaux 4, Hender 2, Reval.
Best
Glenelg - Sallis, Goldsworthy, Colyer, Link, Johnston, Whittaker, Shakes.
Port - Quinn, Dermody, Reval, Ween, Hooper, Eden, McFarlane.
Crowd: 30,045 at Adelaide Oval.
Match Report from The Sport
GLENELG WIN PREMIERSHIP

SUCCESS EXTREMELY POPULAR

FITTING REWARD FOR PERSEVERANCE

Playing determined football all over the field, Glenelg gained a well-earned victory over the Port team at Adelaide in the Grand Final, before an enthusiastic crowd of spectators on Saturday.

Jumping right into their stride, Glenelg soon gave the crowd the impression that ports were not going to have it all their own way. With every man doing his bit, they out-classed the Port team, and ended the first quarter with a handy advantage of three goals.

Glenelg kept the pace on in the second term and, with Ports doing their utmost, the football enthusiasts were treated to one of the fastest exhibitions seen in Adelaide for years. The Bay team maintained their early accuracy at the goal front, whereas the magpies lapsed into a period of inaccuracy.

During this quarter the Bay team kicked 5-4 to Port's 3-9. The final two quarters were fought out at a terrific pace, and the excitement of both players and spectators was intense.

With only ten minutes to go, Ports equalised the score, and moved forward again from the bounce, but "Blue" Johnstone (sic), who had come into the limelight with magnificent marking, took a spectacular one and steaded (sic) the Bays, who went ahead again.

Johnstone(sic) again took another brilliant mark, this time right in the goal-mouth, and scored full points.

Towards the end of the game tempers became very frayed, and some of the Port players, in the excitement, allowed their tempers to get out of hand.

The final bell found Glenelg nine points in the lead, and a mighty roar went up in the praise of Glenelg's success in their first premiership.

Link and Colyer roved brilliantly for Glenelg, and their speed was one of the main factors in Port's defeat.

Hill, Shakes and Leak also showed plenty of dash, while Sallis, at centre, put up another grand game.

Johnstone (sic), although handicapped with an injured knee, came to light in the last quarter with a brilliant display of high marking and long kicking.

Others to shine were the new-comer, R. Birrel, Brock and Whitaker. Bergin played brilliantly on a half-forward wing.

Dermody was the outstanding man for Port. His marking was faultless and his speed on the ground amazing.

Quinn roved to perfection, and Hollingsworth, at half-forward, did good work, but missed badly when shooting for goals.

Reval played his usual strong game, but did not dispose of the ball to advantage on all occasions.

McFarlane, who was brought in from the Amateur League for this match, took some beautiful marks in the last quarter, and R. Johnson and Eden did some good work in defence.
Match Reports from The Mail
Fast and Hard Bumping Play Delights the Crowd
GLENELG WIN PREMIERSHIP

GAIN VICTORY BY NINE POINTS

For the first time since they entered league football in 1921 Glenelg won the premiership today, defeating Port Adelaide by nine points.

By setting a cracking pace from the outset Glenelg gained a lead which proved too much for Port. It was inspiring football, which delighted the crowd present at the Adelaide Oval.

Glenelg had never previously been higher than sixth on the premiership list, although it had a number of first-class players in its ranks. Their combination today was excellent.




Port -
Backs -
V. Johnson,
Eden,
R. Johnson
Half-backs -
Wilkinson,
Obst,
McFarlane
Centres -
Whicker,
Bampton,
Dermody
Half-forwards -
Wightman,
Hollingsworth,
Prideaux
Forwards -
Quinn,
Ween,
Hender
Ruck -
Yates,
Reval,
Hooper
Jacquier (19th).

Glenelg -
Backs -
Griffiths,
James,
Hale
Half-backs -
Birrell,
Brock,
Whitaker
Centres -
Hill,
Sallis,
Shakes
Half-forwards -
Bergin,
Goldsworthy,
Leak
Forwards -
Owens,
Percy,
Colyer
Ruck -
Johnston,
Olliver,
Link
Rosewarne (19th).

Glenelg received an encouraging cheer as they filed on to the ground. Port, who were wearing white knickers, were given an equally rousing reception when they bounded on to the arena a minute later. Owens (Glenelg) won the toss and took advantage of a fresh breeze that blew diagonally across the ground, slightly favouring the northern goal.

Shakes got the ball away from a centre, and a free to Link saw Glenelg hot in attack. An overhead shot by Goldsworthy went out of bounds and Port cleared. A brilliant chain of passes by Reval, Bampton, Hollingsworth, and Hender flashed the ball to the other end, and Quinn goaled from a free.

Link was prominent in the Glenelg attack, and when Owens manoeuvred cleverly to outmark R. Johnson, he equalled the score. Outpacing the opposition, Leak and Link raced goalward again. Percy marked safely and goaled.

The game was opening in brilliant fashion, and kept the crowd on its toes. Sallis drove into Percy who marked against two opponents. His shot from a long way out brought a point. Reval and Bampton brought Port into attack, and Hollingsworth ran in leisurely to even the scores with a goal.

Goldsworthy kicked a goal for Glenelg, and narrowly missed another with a left-foot snap. Percy, who was marking brilliantly, got a point with a long shot. Glenelg were outpacing Port, and were doing practically all the attacking.

Hender led out cleverly to receive from Hollingsworth and brought Port within a point of the opposition. From the bounce Leak raced straight down the field and goaled.

A free to Bampton put Port in attack but Percy returned the ball. Sallis was getting into his stride at centre and twice drove the ball forward. Dermody was prominent in a Port breakaway, but after marking well Hooper got only a behind from easy range.

Dermody eclipsed Hill who had sustained a heavy fall in the early stages of play and was Port's main avenue of attack. But the Port's forwards could make little use of the opportunities provided, being cleverly checked.

Goldsworthy added a goal fro Glenelg before the bell.

First Quarter
G.
B.
Pts
GLENELG . .
5
4
34
PORT . . . .
3
4
22

Percy and Link attacked when the second quarter opened, but Owens failed to hold the ball. Hill and Goldsworthy drove it in again, and Owens scored a goal from a free on the boundary.

Once more Dermody showed his brilliance, but Hollingworth's long shot was not accurate. Port maintained the pressure and success came when Reval found the goal. Glenelg responded with a fierce thrust capped by a goal from Colyer.

It was inspiring football. Dermody put Hollingworth in the way of getting his next goal. Goldsworthy retaliated with a goal from a long shot for Glenelg. Obst, who had been consistently beaten by Goldsworthy, was taken from half-back and replaced by McFarlane, a Port recruit.

A shot by Owens was touched on the line by Eden, and R. Johnson marked a hot shot from Colyer in the goalmouth a moment later.

Weight was now being used freely by Port in an effort to unsettle Glenelg. Both teams temporarily lost their accuracy, Glenelg scoring three behinds and port two before Johnston at the throw-in from the boundary and ran in to goal. James went a long way out of the goal to cover Ween, and a long shot by Hollingworth bounced through for full points.






Dazzling Football and Determination
FACTORS THAT GAVE SUCCESS TO GLENELG

(by Percy Fuller)

Glenelg well won the 1934 premiership today by a display of dazzling football intermixed with bulldog determination.

(lots more to transcribe into here)
Credit Due To Bruce McGregor
Much credit for Glenelg's dashing victory today must be given to their coach (B. McGregor). McGregor came from West Broken Hill, the same club which gave Glenelg their leader, Jack Owens, and he quickly earned a reputation as a player of outstanding ability. His strong and scrupulously fair methods twice earned for him the Magarey Medal.

It must have been particularly pleasing for McGregor to see Johnston annex the same honor in the season that Glenelg won the premiership. In his second season as coach of the Bay side McGregor's efforts with his young charges have reared their just reward and there was no prouder man at the conclusion of the match than the former State skipper.
Stars Of Big Game
Johnston gave a sound ruck display. His towering mark on the goal line in the last quarter was the turning point in a game which threatened to slip away from Glenelg.

Great credit was due to Sallis for his sterling game at centre. He used every opportunity to best advantage, his clever ground play contributing much towards Glenelg's victory.

Tigerish determination and speed by Link and Colyer found them leading many Bay attacks.

Goldsworthy was a match-winner for Glenelg. He was at his top right from the outset and gave Glenelg definite strength at centre half-forward by brilliant marking.

James showed perfect judgement in goal. His strong play and safe marking repeatedly barred Port's progress.

Leak sparkled at half-forward in the opening stages. His fast dashes resulted in the Port backmen often being found out of position.

Eden carried out his many duties in characteristic style. Strong kicking and determination found him fighting out the issue on many occasions.

McFarlane, the Port recruit, showed strong marking ability. When he becomes accustomed to league ranks he should be a valuable unit to the magpies.

Ween played serviceably without ever being an outstanding success

Reval bore the brunt of the ruck work for Port. He tried to do too much, however, and consequently nullified much of his good work.

Quinn roved with brilliant dash. He went into the packs with determination, and was responsible for a fine exhibition.

Dermody showed flashes of brilliance, but was never outstanding in a Port team below top form.
Players Reported
Three Port players were reported by umpires following incidents in the last quarter in the league grand final.

Reval was reported by central umpire Thomas for having allegedly hacked Bergin and Hale of Glenelg. The goal umpire, Monten, and boundary umpire, Hill, reported the same player for having allegedly hacked Hale.

Central umpire Thomas, Boundary Umpires Russ and Hill, and Goal Umpire Monten reported Wightman for having allegedly thrown the ball away in the last quarter.

Obst was reported by Central Umpire Thomas, Boundary Umpires Russ and Hill, and Goal Umpire Monten for having allegedly thrown the ball at the central umpire in the last quarter.
Match Reports from The Advertiser
GLENELG 1934 PREMIERS

WINS THRILLING MATCH BY NINE POINTS

Port Adelaide Unable To Match Glenelg's Great Pace

TEAMS LEVEL IN LAST QUARTER

BY ROVER

Setting the pace from the start, giving Port Adelaide little chance to drop into the machine-like system which had established is as firm favorite for the 1934 title, and beating off a strong challenge in the last few minutes, Glenelg brilliantly won by nine points the League Grand Final and the premiership, at the Adelaide Oval on Saturday.

It was one of the most thrilling matches in the memory of any of the 30,045 people who witnessed it. Fought at a killing pace, the players were forced to endure a more gruelling contest than they had probably ever experienced. Having set the speed, Glenelg maintained it in astonishing fashion, clapping on even greater pace when challenged by Port Adelaide, whose efforts to produce the cool, systematic football which had been a feature of its play in earlier matches, were obviously upset by the dash and verve of the opposition.

A remarkable feature of the match, and indicative of the determination of the winning team, any Port goal would immediately be answered by a similar score by Glenelg. By this means not only did Glenelg hold a slender lead practically throughout the game, but it caused Port Adelaide's early sang-froid to give way to concern, and finally to panic in the closing stages, when with the last few minutes ticking away its fiercest efforts could not bring the goal which would give it the lead. The teams were level a few minutes before the finish, and for a few seconds Port seemed to have the grip of the game for which it had striven for more than three quarters, but before freak marking by Johnstone and another surge of fierce determination by the Glenelg team generally, Port quailed, and was beaten.

The progressive scores are an excellent indication of the game. Glenelg's speed and new-found pugnacity is reflected in the fact that Port Adelaide, after scoring the first goal of the day did not thereafter hold the lead at any stage, though on several occasions it drew to within striking distance, only to see Glenelg scoot away again. Half-way through the first quarter the scores were level at 2.2. but Glenelg drew away to a lead of three goals shortly after the second quarter began, and after exciting goal for goal exchanges, increased its advantage to more than four goals shortly before half time.

It was at this stage that Port Adelaide threw away, by laxity in kicking in the forward-lines, a golden opportunity to at least overhaul Glenelg. Its last five kicks at goal before half time and its first one on the resumption brought points-six behinds in a disappointing row. Glenelg's reply was to take its score from 9.8 to 13.8 in four scoring shots. Port was left apparently hopelessly behind, and it entered the last quarter with a deficit of nearly three goals.

Port's Challenge

Two goals early in the fourth term brought the crowd to its feet, the scores then being-Port Adelaide 13.17, Glenelg 16. 10 - a difference of only five points - but as it- happened throughout the match, Glenelg responded fiercely, a goal and two behinds putting the scores out of touch again.

Johnston, who was playing magnificently in the view of the fact that he had an injured leg, rose to great heights, literally and metaphorically, dominating the ruck and knocking the ball into open spaces with powerful punches.

Excitement was intense as Port fought to regain a challenging position. McFarlane, brought into the side from the University team in Amateur League, marked brilliantly in the Port half-back line, and, with defeat staring them in the face, every Port player summoned reserves of energy he did not know he possessed, to beat back Glenelg attacks and to get the ball forward.

Dermody's dashing play at centre wing- he literally ran himself into the ground in his lion-hearted effort-was ultimately rewarded by a goal from Prideaux. Twice repelled, Port again sent in by Dermody, scored another goal by Quinn. This made the scores level.

The tenseness of the excitement was almost painful as the ball was bounced in midfield. Goldsworthy, who at centre half-forward had been a leading figure in the Glenelg side throughout the match, came out almost to centre to get the ball and from him it flashed from man to man until Johnston-playing a match-winning quarter-soared feet above the pack in the goal mouth to mark and kick the goal which restored the lead to Glenelg. The crowd, definitely pro-Glenelg, was hysterically delighted when Owens capped another goal.

The players of both sides were palpably exhausted. Physically "done," the nervous tension kept them on their toes, and it was not at all surprising that frayed tempers found an outlet in two or three outbursts of "temperament" on the part of disappointed Port Adelaide players. This display of feeling, however, played havoc with the side's prospects, for by that time Quinn had scored another goal for Port, making the difference on six points, but Port had come to the end of its tether, and Glenelg made the game safe by scoring behinds, the first of which was as good as a goal to it.

Strain On Players

Immediately the bell rang. Players all but collapsed in several parts of the ground. Dermody was "all in," and so were many players of both sides as they limped painfully off the ground. The gateman found difficulty in, restraining the crowd from rushing on to ground to lionise the Glenelg players. Bruce McGregor (coach of Glenelg) was beside himself with excitement, and, pouncing upon Colyer (Glenelg rover), carried him in his arms, delightfully hugging him. Other players, as much for the additional support, as felicitation, walked with arms about each other from the ground.




First Quarter

Glenelg. 5 goals 4 behinds (34 points).

Port Adelaide. 3 goals 4 behinds (22 points).




Half-time

Glenelg. 10 goals 8 behinds (68 points).

Port Adelaide. 6 goals 13 behinds (49 points).




Third Quarter

Glenelg. 15 goals 10 behinds (100 points).

Port Adelaide. 11 goals 17 behinds (83 points).




Final

Glenelg. 18 coals 15 behinds (123 points).

Port Adelaide. 16 goals 18 behinds (114 points).

Scorers of goals and behinds

Glenelg Goldsworthy, 4 goals 2 behinds; Owens, 3.3; Colyer and Johnston, each 3.0; Bergin, 2.1; Percy. 1.5; Link, 1.3; Leak, 1.0; and one behind was knocked.

Port Adelaide Quinn, 5.2; Hollingworth, 4.7; Prideaux, 4.2; Hender, 2.1; Reval, 1.1; Yates and Ween, each 0.2; Hooper 0.1. One of Prideaux's kicks hit a goal post.'

Goldsworthy's Marking

When it entered the major round Glenelg was not generally regarded as a high-marking team, but it has not been definitely beaten in the air in any of its three matches. On Saturday Goldsworthy was one of the principal match-winning factors at centre half-forward. His marking and kicking were always a source of danger to Port Adelaide. Colyer and Link were amazingly fast rovers, and their dashes with the ball were probably more demoralising to Port than anything else. Sallis, while not so completely in command as in the previous match, was almost unbeatable in centre, and Leak, Shakes, and Hill supplemented the pace and dash of the two rovers already mentioned. Johnston reserved his best efforts for the critical stance in the last quarter. His freak one-handed mark at half-back stopped a threatened breakaway by Port Adelaide and he clinched the game for his side with his mark in the goalmouth at the other end a few minutes later. Whittaker, Brock, James and Birrell were stout defenders, and Bergin a brilliant half-forward flanker. Percy and Hale marked strongly and rucked vigorously respectively.

Great Wing Play

Every ounce of Dermody's strength and stamina was spent in his effort, particularly in the last quarter, to bring victory to side. His brilliant marking, and remarkable speed and cleverness in finding openings through which to launch virile attacks, made him a particularly painful thorn in Glenelg's side. Quinn capped a good season with his best roving effort. Like his more famous brother, he tempers even the most torrid exchanges with a coolness which enables him to perceive the right thing to do. He kicked accurately when trying for goal — something Hollingsworth could not do. This fine half-forward handled the ball as much as any other placed man on the ground, gaining possession with great brilliance on occasion, but four goals from 11 scoring shots discounted much of his good work. Whicker played one of his best games at centre wing, and Bampton completed a centre line which on the day had at least as much of the play as the opposition. Hender and Hooper were occasionally brilliant and always useful but were not the force they have been in other matches. Revel seemed unable to find a man to whom to send the ball and many of his brilliant runs resulted in disaster. Nevertheless his determination and stamina were commendable. Eden, who in the absence or West through injury, took over the goal keeper's position, and R Johnson were the best of the defence. though McFarlane, playing his first League match, marked brilliantly in the last half. Prideaux marked well at times in the forward lines.

L. C. Thomas umpired well.
GLENELG'S POPULAR WIN
Premiers After 14 Years

ENTHUSIASM IN TOWN

Footballers Feted

By JIM HANDBY


Unprecedented scenes, both at the Adelaide Oval and in Glenelg itself, followed Glenelg's popular win in the grand final football match on Saturday. In beating Port Adelaide by nine points, the Glenelg side made football history by becoming the first club to win the premiership on the first occasion on which it had contested the finals. When the final bell rang, the crowd of thirty thousand on the Adelaide Oval stood and cheered for some minutes. But this demonstration in favor of the team which had reached the top after fourteen years in League football was small compared with that at Glenelg, where there were scenes which, residents say, could be compared only with those witnessed there during the war. Crowds thronged the streets, and thousands congregated outside the town hall. As the cars containing the players drove into Moseley Square there was an outburst of cheering which continued for some minutes. Then followed speeches, punctuated by loud and frequent calls for various players, and a round of victory celebrations, which were continued at the clubrooms at the Glenelg oval, and lasted through out the night. Many members of other clubs were entertained.

Made History

Outside the Glenelg town hail the mayor (Mr. W. Fisk), in the presence of 4,000 townspeople, on behalf of the residents of Glenelg and surrounding districts congratulated the team. He said that Glenelg had made football history that day, and the people of Glenelg were proud to acknowledge the team's great display. The chairman of the Glenelg club (Mr. O. G. Tolley) thanked the mayor for his congratulations, and said that the splendid support and encouragement given the team by Glenelg had been an incentive to the side. The unswerving loyalty and support of those who had stood by the team during its long unsuccessful period had enabled it to realise its ambition.

A public committee has been formed to make arrangements for a dinner to the club, and though it has been in existence only two or three days more than £50 has already been subscribed by the Glenelg public.

The match itself was a thrilling one. Even rabid Port Adelaide supporters admitted that the sheer determination of the Bay men deserved success. The first clang of the bell produced a dramatic pause, and then the enthusiasm of the Glenelg followers burst like a storm, while the players carried Owens, the captain, and Sallis, whose performance was outstanding, shoulder high from the arena. Club partisanship was thrown to the winds; it was probably the most popular premiership win in League history.

When Port Adelaide drew level with still a few minutes to go it appeared as though the team would achieve victory. However. Glenelg withstood the challenge, and regained a grip of the game in the face of opposition which only a good team could overcome. Just how slender becomes the margin between self-control and unbridled restraint under the stress of intense excitement was again demonstrated when, momentarily, unseemly conduct threatened to spoil what was one of the most spectacular and exciting games of foot ball ever witnessed in a grand final.

Fourteen-Year-Old Ambition

In winning the premiership Glenelg achieved a fourteen-year-old ambition. After one year in the B grade association, in which it won only two matches, Glenelg was promoted to the senior ranks fourteen years ago. Handicapped by a limited field from which to draw players, it was not until 1925 that it achieved its first success. The first match in that season brought its first win, defeating West Torrens, the previous year's premiership side.

Realising the necessity for building up a team, from experienced players, Glenelg induced several prominent footballers from other clubs to join up with it. After this foundation was firmly laid Glenelg's rise has been mainly through fostering junior talent in the district. It was a tribute to its faith in the juniors that Saturday's premiership team included only two country players.

Great fortitude was shown by G. B. Johnston, this year's Magarey medalist, on Saturday. In the match against Sturt the week before he injured his right knee. Fluid developed, and he played on Saturday under great difficulties. His knee has since swollen tremendously, and he will be forced to rest it for some time.

After the match Mr. H. Douglas, a Glenelg supporter, presented Johnston with the first badge struck for the Glenelg club. The colors were then red, black, and yellow.

Captains' Opinions

J. Owens (Glenelg)— It was a great win. All our players pulled their weight, and it was our combined team work that, enabled us to defeat the powerful Port team. It is a great time for the Glenelg club, and I am particularly pleased that we showed our true form.

Vic Johnson (Port Adelaide)— Naturally I am disappointed at not winning the premiership, but we are pleased that it was Glenelg that defeated us. Their win is a very popular one, and will do a lot of good to the game.
Pictures
See also 1934 Gallery
References
1. The Sport newspaper Thursday 11 October 1934
2. The Mail newspaper Saturday 6 October 1934
3. "The Advertiser" newspaper Monday 8 October 1934