Jim Handby
From Snoutslouts
Glenelg Career Highlights
GFC League Player Number: 79
GFC League Debut: Round 1, 1925
Glenelg 1925-1932
Coached Glenelg 1926-1927 and 1930-1932
Captain of Glenelg, 5 years
Glenelg, best and fairest 1925, 1929
Magarey Medal 1928 (Runner up 1929)
Inducted Glenelg Hall of Fame 2002
Other Career Highlights
South Adelaide 1922 - 1924
Played 29 matches for South Australia
State Vice-Captain
Inducted SANFL Hall of Fame 2002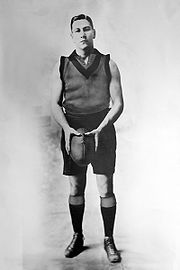 Biographical
Born: 1 September 1903
Died: 2 October 1991
Height: cm
Weight: kg
Recruited from: South Adelaide
Previous Club:
GFC League Debut: 1925
Guernsey Number:

"Jim" Handby O.B.E. was born Herbert Harry Handby in Adelaide, South Australia. He was invariably referred to simply as 'Jim'. The nickname was given to him by the men who worked for his father (a baker), who called him "Sunny Jim" after a breakfast food of the day. The nickname was shortened to simply "Jim" as he got older.

Handby enjoyed a league football career at two SANFL clubs, achieving his greatest honours while featuring prominently in the development of the young Glenelg club.
Pre- Glenelg
Growing up in Port Elliott, Handby attended local schools and commenced playing senior football at 14 years of age.
Handby commenced his football career with South Adelaide in 1922, having moved to Adelaide chiefly to pursue cricket. Although not a classically brilliant player, he displayed great perseverance and all round effectiveness. Handby played 32 games for South Adelaide between 1922 and 1924. He was quickly recognised as one of the best defenders in South Australia, and in 1923 Handby made his debut at State-level football.
The SAFL (as the SANFL was known then) had a residential policy that tied players to the Club's zone in which they lived. In 1924 Handby moved to Seacliff to open a residential cafe and should have played for Glenelg that year. He used a loophole in the rules to continue to play for South by staying Tuesday and Thursday nights (training nights) at his uncle's residence in Halifax Street. By the end of 1924 Glenelg had woken up to this ruse and 1925 found him at the Bay.
Glenelg
Handby joined Glenelg in 1925, and on debut featured prominently in the club's first ever win (breaking a 56 game losing streak). Handy was named equal best in that match despite injuring his knee in the third quarter, practically limiting him for the rest of the match.
Descriptions of his playing style at this time referred to his solid and capable qualities and also to his consistent marking ability to hold up attacks. Handby won Glenelg's club champion award in 1925 and 1929. He won the SANFL's Magarey Medal in 1928 as the 'fairest and most brilliant' player in the competition. The Advertiser described him as having a reputation as a "dogged, determined half-back. Not outstandingly brilliant, Handby relies principally upon untiring perseverance, and especially when Glenelg was fighting to establish itself as a League team, he was responsible for remarkable exhibitions of stamina and courage."
He was Glenelg's captain-coach in 1926 and 1927 but then relinquished this role until 1930, when he started a further three year period as captain-coach. He achieved his 100th game for Glenelg in the last minor round game of 1930 - the club's seventh win for the year, making it their most successful season to date. Sadly the best result he achieved as a coach was 6th (in an 8 team competition) in 1931. He retired as player and coach at the end of the 1932 season, having helped lay the foundation for the 1934 premiership side.
Altogether he represented South Australia 29 times in an era when Interstate games were commonly played on several occasions during a season.
After hanging up the boots Handby continued his association with football, going on to write a special football column for The Advertiser until World War II. He also did radio commentating of matches for 5CL.
Outside Football
Outside his football interests Jim Handby led a varied and successful life. He had extensive hotel interests. He was elected at different times to Glenelg and Brighton Councils, going on to serve as Glenelg's Mayor 1947-1949. During the War he served in the Royal Navy 1942-1945, and later he become National President of the Naval Association of Australia for nine years.
In 1949, he was elected to the Australian House of Representatives as the Liberal member for the new seat of Kingston, defeating Labor member for Boothby Thomas Sheehy for the notionally Labor seat. He was defeated in 1951 by Labor's Patrick Galvin and returned to his business career.
For his services to the nation he was awarded an O.B.E. by the Queen in 1964.
References
2. The History of the Magarey Medal, 1988, John Wood.