Mark Williams
From Snoutslouts
Career Highlights
COACHING CAREER
Other Career Highlights
PLAYING CAREER
West Adelaide (1976 – 1978) 65 games and 37 goals
Port Adelaide Magpies (1979 – 1980), (1990 – 1992) 111 games and 104 goals
Collingwood (1981 – 1986) 135 games and 178 goals
Brisbane (Bears) (1987 – 1990) 66 games and 58 goals for
PREMIERSHIPS
Member of Port Adelaide premiership team 1979, 1980, 1990, 1992
INTERSTATE MATCHES
9 games for South Australia
1 game for Victoria
ACHIEVEMENTS
Best and Fairest winner Collingwood (Copeland Trophy) 1981, 1985
Leading Goal Kicker for Collingwood 1984
All Australian 1980
SANFL Hall of Fame (inducted 2003)
Port Adelaide Football Club Hall of Fame (inducted 2018)
OTHER COACHING RECORD
Assistant Coach Essendon 1995 – 1996
Assistant Coach of Port Adelaide Power 1997 – 1998
Coach of Port Adelaide Power 1999 – 2010
Assistant Coach Greater Western Sydney 2011 - 2012
Senior Development Coach Richmond 2013 - 2016
Werribee (VFL) Coach 2019
* Stats current to end of 2020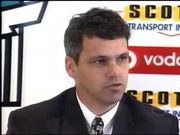 Biographical
Born: 21 August 1958
Height: 183 cm
Weight: 80 kg

Mark 'Choco' Williams began at West Adelaide under the coaching of his father Fos in 1976. After 64 games he transferred to Port Adelaide, playing in the centre in the club's 31-point defeat of South Adelaide in the 1979 SANFL grand final. The following year Williams was similarly impressive in assisting the Magpies to a hard fought 18-point grand final victory over Norwood.
In 1981 Williams moved to Collingwood where he was an immediate success, helping the club reach a Grand Final, representing Victoria, and winning the first of two Copeland Trophies for the Victorian Magpies' best and fairest. He played a total of 135 games in six seasons with Collingwood, captaining them from 1983 to 1986. The end of the 1986 season saw Williams reluctantly join the newly formed Brisbane Bears, where, to his surprise, he is appointed vice-Captain to Mark Mickan.
Midway through the 1990 season, after 66 games for the Bears, and 201 in all in the then VFL, Mark Williams 'retired' and returned home to help Port Adelaide to another SANFL premiership. Two years later he played in another SANFL premiership, after which Williams did retire from playing.
Williams was appointed coach with Glenelg for 1993 following the controversial ousting of Kym Hodgeman despite the Bays having finished 2nd in 1992 - to Williams' Magpies. Williams could only manage to get Glenelg to 4th in his first year and 5th in 1994.
He then moved back to the AFL (previously called VFL) as assistant to, first, Kevin Sheedy at Essendon, and then John Cahill at Port Adelaide. Mark Williams took on the Port Adelaide senior job full time in 1999, and in September 2004 piloted the club to its first ever AFL premiership. In 2012, Williams was senior assistant coach to Kevin Sheedy in Greater Western Sydney's inaugural AFL season, before moving on to become Senior Development coach at Richmond. More recently, in 2018 he took up the coaching reins at VFL club Werribee.
References