Wayne Phillis
From Snoutslouts
Glenelg Career Highlights
Other Career Highlights
Norwood 1978 - 1979 (38 games)
* Stats current to end of 1979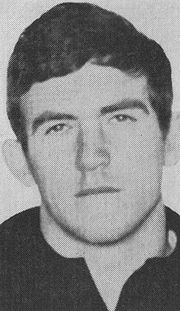 Biographical
Born:
Height: 185.5cm
Weight: 90kg
Recruited from:
Previous Club:
GFC League Debut: 1967
Guernsey Number: 20
Nickname: Butch
The younger brother of 'Fred', Wayne Phillis made his league debut for Glenelg in 1967, and later that year was a member of the club's second eighteen premiership side.
A powerful, assured and dynamic player, he was a close-checking centre half back during the early part of his career, but later developed into a fine ruckman.
He was among the Bays' best players in their 7 point grand final defeat of North Adelaide in 1973 (reviewed here), and also played in the losing grand finals of 1969, 1970, 1974, 1975 and 1977 (as acting captain).
After 218 games for Glenelg he moved to Norwood in 1978 where he had the immediate satisfaction of playing in that season's heart-stopping grand final win over Sturt. Phillis added 38 league games for the Redlegs before retiring at the end of the 1979 season.
He represented South Australia 5 times.
Inducted into Glenelg Hall of Fame in 2004.
See also
References
1. Pride of the Bay
3. 1973 Grand Final Football Budget.