Stan Wickham
From Snoutslouts
Career Highlights
Other Career Highlights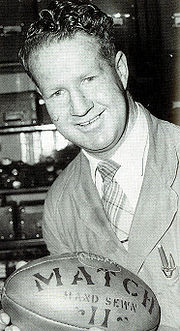 Biographical
Born:
Height: 170 cm
Weight: 79 kg
Recruited from: Sturt
GFC League Debut: 1950

Guernsey Number: 16

Stan Wickham played football for Sturt and Glenelg, District cricket, was a Davis Cup tennis umpire, was heavily involved in men's basketball and a driving force behind the mini league. He was a journalist for the Advertiser and a star on local television football shows.
Wickham was a character such as is rarely seen in the modern game. Two stories frequently related about him are the bicycle incident at Norwood, and the 1951 Preliminary final he almost missed despite being named in the side.
Allan Reval wrote in his preview of the Norwood/Glenelg clash that Wickham "literally needs a bike to keep up with the play". When the teams ran out onto the ground at the Parade on the Saturday Wickham was astride a green Healing bicycle! The crowd loved it, but at quarter time the umpires reported him for misconduct.
In 1951 Glenelg played North Adelaide in the Preliminary Final. Wickham, like many players of the day, had been at work in his regular job on the Saturday morning - as a tram conductor starting at 5 a.m. So it was perhaps understandable that his teammates would find him sound asleep on a bench in the rooms prior to the match!
In what may have seemed a surprise move Wickham was appointed League coach in 1961 after coaching the junior colts to premierships in 1958 and 1959. He replaced Marcus Boyall, who suffered for the lack of long-term planning for replacements for several key players who retired, with the side finishing 1960 with the wooden spoon. Wickham however faired little better, the Bays finishing 7th, and having endured a season hampered by his own ill health, he resigned at the end of 1961.
See also
References
1. "Pride of the Bay"