Allan Reval
From Snoutslouts
Glenelg Career Highlights
Other Career Highlights
PLAYING RECORD:
187 games and 79 goals for Port Adelaide 1932 - 1945
PREMIERSHIPS:
Member of premiership teams for Port Adelaide 1936, 1937, 1939
MATCHES FOR SOUTH AUSTRALIA:
13 games for South Australia
ACHIEVEMENTS:
Best and Fairest for Port Adelaide 1939
Player life member of Port Adelaide 1944
Player life member of the SANFL
Inducted into the Port Adelaide Football Club Hall of Fame 1998
Member of the "Greatest Team of the Greatest Club" for Port Adelaide 2000
Member of the South Australian Football Hall of Fame (Inducted 2004)
COACHING RECORD:
Coach of Port Adelaide 1940 - 1941
OTHER AFFLIATION:
Worked as a part time Journalist for the Sunday Mail 1950's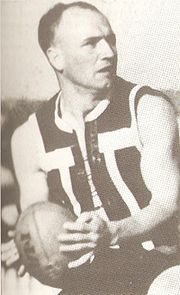 Allan "Bull" Reval coached Glenelg in 1949 to 6th position in an eight team competition.
He is credited with instigating the "new" guernsey modelled on Richmond's gold sash on a black background, and implementing a number of significant measures which assisted his successor, Johnny Taylor, to steer the Tigers to the 1950 grand final
Reval is described in 100 Years with the Magpies -- The story of the Port Adelaide Football Club as "an iron man, with an iron man's will and constitution packed into his ruck-rover's frame." Reval, it continued, combined with Port champion Bob Quinn -- who had two MMs; a Military Medal won at Tobruk and a Magarey Medal at home -- to rule the packs in the 1930s and '40s. Reval was an automatic state selection from 1934 to 1939, and the Victorians reportedly spent a lot of time trying to clean him up, without success.
Reval was in the Port Adelaide side that lost to Glenelg in the 1934 Grand Final, and for good measure was reported in the last term of that match.
References