Johnny Taylor
From Snoutslouts
Career Highlights
Other Career Highlights
West Adelaide 1936–1941, 1945–1949
West Adelaide Captain 1945, 1947, 1948
West Adelaide Coach 1948, 1949
Member of the West Adelaide Premiership team 1947
Glenelg / West Adelaide 1942–1944
Represented South Australia 4 times
West Adelaide Player Life Member
SANFL Player Life Member 1949
First player to play 250 games for the SANFL
Member of the inaugural West Adelaide Football Hall of Fame 2005
SANFL Hall of Fame - inducted 2007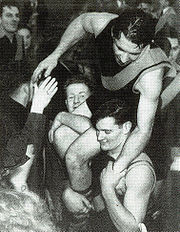 Biographical
Born:
Height:
Weight:
Recruited from: West Adelaide
GFC League Debut:

Guernsey Number: 1
Career
A tough and determined footballer, Johnny Taylor and his brothers, Laurie and Don Taylor, helped boost Glenelg to a Grand Final appearance in 1950.
Johnny Taylor made his debut with West as a seventeen year old in 1936, playing as a ruck shepherd in support of Colin Smith. The role of ruck shepherd was later outlawed, but for Johnny Taylor, surviving his induction to league football in the position was a key to his developing into one of the toughest and hardiest footballers ever seen in the SANFL. During his career he received a total of 48 stitches in facial wounds, and was concussed 14 times. "At the end I felt that if someone blew on me I would be concussed again," he said when his career was over (see footnote 1). He was renowned for playing on in spite of injury, and on one notable occasion he captained South Australia in Perth despite having sustained cracked ribs in a club game the previous weekend. The injury produced internal bleeding, and Taylor was constantly coughing up blood, but by sucking on ice cubes during intervals in the play he was able to quell the bleeding temporarily.
In 1939, Taylor experienced the great thrill of playing in the same West Adelaide league team as his brothers. Over the years, all three brothers would give the red and blacks sterling service, but when the side broke through for a flag in 1947, only Johnny played, as Don was with South Melbourne, and Laurie with Richmond. Johnny Taylor actually skippered the side in 1947, and the following year he took over from Gordon Scott as coach.
After a couple of years as captain-coach of West, Taylor crossed to Glenelg, where he undertook the same role. With his brothers alongside him in the team, the Tigers quickly went from being perennial also-rans into a genuine premiership threat. In his first season at the helm they reached the grand final, only to lose to Norwood. The side enjoyed another good year in 1951, finishing 3rd, but after a slump to 5th place the following year, Johnny Taylor was replaced as coach by Pat Hall. His 55 games at the Bay took his final career tally to 258 and made him the first SANFL player to pass the 250 game mark. He also represented South Australia on 4 occasions.
See also
References
1. "Pride of the Bay"