Marcus Boyall
From Snoutslouts
Career Highlights
GFC League Player Number: 232
GFC League Debut: Round 1, 1940
Glenelg 1940 – 1943 & 1948
Magarey Medal 1941
Glenelg best and fairest 1941
Glenelg Captain 1941
Glenelg coach 1941 (part year), 1960
Other Career Highlights
Collingwood (VFL/AFL) 50 games, 29 goals
Camberwell (VFA) 54 games
* Stats current to end of 1960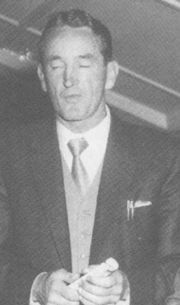 Biographical
Born: Born: 08 October 1917
Height: 188 cm
Weight: 78 kg
Recruited from: Collingwood
Previous Club:
GFC League Debut: 1940
Guernsey Number: 2
Career
Marcus Boyall sat out the 1939 season after Collingwood refused to clear him to Glenelg. A strong overhead mark and deceptively dashing for someone who appeared so angular and uncoordinated, Boyall made centre halfback his own.
He spent part of the 1940 season as captain-coach only to resign when things weren't going well. Without the coaching burden Boyall's form improved and he started to play better than ever. His form continued into the 1941 season, which saw him win both the Bay's Best and Fairest and Magarey Medal.
Boyall was stationed in Melbourne on war service in 1944-5, where he once again played for Collingwood. 1948 was Marcus Boyall's last season in top level football, once again playing for Glenelg. However he was based at Whyalla at this time and could only front up occasionally at the Bay.
See also
References
2. "SA Greats-the history of the Magarey Medal", John Wood