Ray Curnow
From Snoutslouts
Career Highlights
GFC League Player Number: 139
GFC League Debut: Round 12, 1931
Glenelg 1931-1938
Glenelg coach 1941, 1945,1946(part)-1948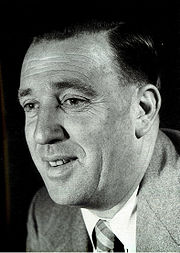 Ray Curnow is one of just five coaches have served four years in succession since the Tigers' SANFL inception in 1921 - Ray Curnow, Mark Mickan, John Halbert and premiership mentors Neil Kerley and Graham Cornes.
In addition to being part of that elite group, Ray Curnow served the Club in a wide variety of roles. He coached Colts and League teams, as well as coaching the combined West-Glenelg side 1943-44 during World War II. He served administratively on Management Committee (1939-53), as Deputy Chairman (1949-53) and as Secretary (1954-72). He was awarded Life Membership in 1941.
The "E.R Curnow" awards are presented each year to the most dedicated player and clubman in all Grades.
References
1. Pride of the Bay, by Peter Cornwall and John Wood.