Peter Berbakov
From Snoutslouts
Glenelg Career Highlights
Other Career Highlights
Essendon (AFL) 1996 - 1999

* Stats current to end of 1999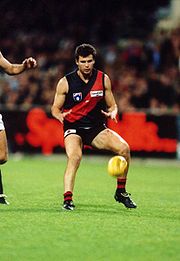 Biographical
Born: 22 August 1973
Height: 180 cm
Weight: 90 kg
Recruited from: Sunbury
GFC League Debut: 1993
Guernsey Number:
Career
Peter Berbakov showed skill and had a cool head on the backline.
His selection by Essendon in the 1995 December draft was a just reward for a great year with their Reserves as a supplementary list playe. In 1996, he debuted in Round 1 and played nearly every game early for the year, playing well on some very tough opponents. Towards the end of the season his form slipped a little, and he was in and out of the senior side.
At 23 he appeared to have the potential to become an solid defender for years to come, and he was a consistent contributor in 1999 until the 8th round when he had a bad ankle injury which kept him out of football for the remainder of the season.
Berbakov's bad luck continued into 2000 and he did not play a senior game for the season. The popular clubman was delisted at the end of the 2000 season.
He had lived for some years in Papua New Guinea as a boy.
References
1. Pride of the Bay
3. Essendon FC