Laurie Rosewarne
From Snoutslouts
Career Highlights
GFC League Player Number: 516
GFC League Debut: Round 2, 1965
Represented South Australia
Glenelg Hall of Fame
Greats of Glenelg
* Stats current to end of 1973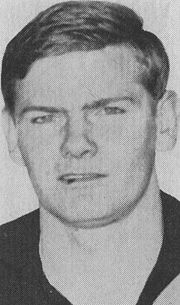 Biographical
Born: 1947
Height: 176cm
Weight: 85kg
Recruited from:
Previous Club:
GFC League Debut: 1965
Guernsey Number: 2

A hard working centreman or wingman who did most of his work so quickly and efficiently that it was barely noticed, Laurie Rosewarne gave Glenelg fine service in 169 league games between 1965 and 1973.
A local boy who worked his way through the club's junior ranks, he was a prominent member of the Bays side that made consecutive grand finals in 1969 and 1970 (many rated him best on ground in 1970). South Australian state representative in the 1970.
A strong and relentless ball getter, he tended to be somewhat old fashioned in his tendency to stick to position rather than roam freely like an increasing number of opposition centreline players.
His career ended in great disappointment when, as vice-captain, he was omitted from Glenelg's 1973 grand final side and had to watch from the sidelines as his team mates overcame North Adelaide by 7 points in one of the most thrilling matches ever played on the Adelaide Oval. Rosewarne had injured his hamstring in the dying minutes of the second semi-final against Sturt and although he trained the Thursday before the Grand Final, Kerley was not prepared to take the risk of playing him.
The following season found Rosewarne in Whyalla for employment opportunities and he continued his football career as Captain Coach of South Whyalla.
Rosewarne went on to become the clubs first junior Development Manager, and later was Glenelg General Manager 1987-1993. The latter role was at a particularly "interesting" time for SANFL football, with Port Adelaide seeking to break away and join the VFL, and Rosewarne taking a leading role in pursuing court action to stop that from happening (and subsequently leading to the formation of the Adelaide Crows, which in itself had a decimating effect on Glenelg's playing and coaching staff)
His full non-playng involvement with the Club was listed at the time of his induction as a Great of Glenelg in 2015:
1970 – 72 Assistant Secretary
1971 – 72 Management Committee
1981 – 86 Youth Coaching Director
1983 – 86 Under 19 Coach
1983 – 92 Past Players & Officials Committee
1987 – 92 General Manager
1987 – 92 Board Of Directors
1998 – 99 Management Committee
2000 Board Of Directors
2000 – 07 Past Players & Officials Committee
2008 – 15 Chairman Past Players & Officials Committee
2008 – 15 Hall Of Fame Selection Committee Chairman
Laurie Rosewarne is the son of former Glenelg, Swan Districts and South Adelaide player Clem Rosewarne.
See also
References
2. Pride of the Bay
3. SANFL 1973 Grand Final Football Budget