John Nicholls
From Snoutslouts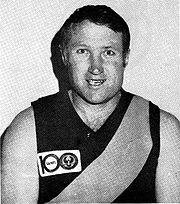 Glenelg Career Highlights
Other Career Highlights
PLAYING RECORD:

ACHIEVEMENTS:
Carlton Football Club Team of the Century – ruck
Carlton Premiership side: 1968, 1970, 1972
Carlton Premiership captain/coach: 1972
Carlton captain: 1963, 1968–1974
Carlton Best and Fairest: 1959, 1963, 1965-66-67

(Award renamed in his honour in 2004)

Carlton Best First Year Player: 1957
Victorian State Representative: 31 occasions (record)
Australian Football Hall of Fame – inaugural legend (1996)
AFL Team of the Century – back pocket
COACHING RECORD:
One of the truly great players in the history of VFL/AFL football, and the man widely regarded as the finest ruckman ever to play the game, John Nicholls led the Carlton Football Club to two Premierships as captain, and a third as captain-coach, in a celebrated playing career spanning 18 seasons.
'Big Nick' was a skilful and inspirational on-field leader, as well as a fierce protector of his team-mates. He played his first senior match before his eighteenth birthday, and was retired – against his will - by the Carlton committee just 17 days before he turned thirty-five. In between, his career was packed with glory, controversy, heart-break, and just about every individual and team honour the game could provide.
He coached Glenelg for two seasons 1977 - 1978.
References
1. John Nicholls Wikipedia article