George Johnston
From Snoutslouts
Glenelg Career Highlights
GFC League Player Number: 99
GFC League Debut: Round 1, 1927
Glenelg 1927-1930, 1932-1940
Member of the first premiership team for Glenelg 1934
Best and fairest for Glenelg 1932, 1936-1937
Played 16 games for South Australia
Magarey Medallist 1934
Inducted Glenelg Hall of Fame 2002
Inducted SANFL Hall of Fame 2002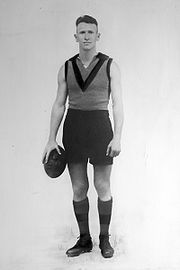 Biographical
Born: 27 March 1907
Died:
Height: 183 cm
Weight: 83 kg
Recruited from: Goodwood Methodists
GFC League Debut: 1927

Guernsey Number: 3

George Bain Johnston was nicknamed "Blue" in typical Australian fashion due to his red hair. He was considered to be one of the best followers of his time and a popular Magarey Medal winner.
Johnston played when the Glenelg club was still very much struggling to be competitive against the other seven more established, sides in the League. Indeed, apart from the 1934 premiership, the highest the club finished during Johnston's playing career was sixth.
Johnston played 203 league games (the first Glenelg player to pass the 200 mark) during his career, won three best and fairest awards, and put in a best afield performance as the club broke its premiership duck against Port Adelaide in 1934. He also won the SANFL's highest individual honour - the Magarey Medal for the best and fairest player - in 1934.
Jeff Pash, himself a Magarey Medallist in 1939, described Johnston as "a phenomenal leaper for the ball ... he had the sort of (frightening) steel-spring strength about him that John Coleman had. All of him - and he was tall and strong - was up there for that ball."
Although smaller than most opposition ruckmen, in addition to his brilliant leap, he was extraordinarily powerful, an asset which served him well during interstate clashes with the VFL.
Pre-Glenelg
George Johnston was born at Birkenhead in 1907, the only son of a paddlesteam operator, and spent his early years at Port Broughton. At twelve he moved with his family to Goodwood, attending Goodwood Public School then Unley High. Here he played football but was unable to make the school's first team.
He left school at 14, working first as an office boy then switching to the trade of brass furnisher and moulder. He played with a church team, Goodwood Methodists, and tried out with Sturt's Reserves during 1926. He was told it was too late in the year and to come back next season.
By the summer of 1927 he had however moved to Brighton, and when having a kick on the beach was told to contact Bays coach, Jim Handby, and the rest was history.
Glenelg
Although he had some rough edges, he blossomed under the guidance of Handby and his successors, Roy Brown and Bruce McGregor. So much so that by Round 5 of 1927 he was already pushing his claims for Interstate Representative duties, and by 1928 it was recorded that "Johnston's great leaping and general ruckwork stamped him as a potential champion." He continued to develop and in 1930 won Glenelg's Best All Round Player award.
When he first started with the Bays in 1927, match payments were a generous two pounds per game. The Depression however hit football as well as all other aspects of life, and payments dropped to two shillings and sixpence. As happened to many other players at that time, Johnston found that financially he had to make a hard decision and leave the Bays. He took up an appointment as Captain-Coach of Penola for 1931, where he was paid three pounds a match plus keep in the local hotel. He won the Association medal, and his skills were, if anything, enhanced by his country sojourn, developing the ability to control a greasy ball.
1932 and 1933 were good seasons for Johnston - indeed he won Glenlg's Best and Fairest in 1933. But 1934 was even better. He won the Magarey Medal with the next highest ranked player being Murdy of South Adelaide, some 17 votes behind. Johnston was in the best three on the ground in fourteen of the seventeen matches in which he played, including eight times considered best on ground. Johnston, employed at that time as a mounted constable at the Adelaide Police Barracks, was pleased to have won, but was reported to have believed that team mate Len Sallis would have won the medal. As it turned out, Sallis won the Glenelg award for best and fairest that year.
But as well remembered as he is for his Magarey Medal win and stellar season, "Blue" Johnston is equally well known for his efforts in the 1934 Grand Final. Glenelg had held a slender lead all day, countering every effort by the highly regarded (and pre-match favourites) Port. But late in the final quarter Port drew level and the momentum of the game seemed to have swung to them. Johnston took a one handed mark across half back, stemming a Port attack and driving Glenelg forward. Then he took one of his trade mark soaring marks to get the goal that clinched the premiership.
Glenelg's fall from grace however was swift, and in 1935 they finished last, winning only one game. Johnston continued playing until 1940, but Glenelg was undergoing another rebuilding period (by 1936 only five off the premiership side remained) and they remained near the bottom of the table for the rest of his career.
For his great playing exploits on the field, Johnston was also the source of much amusement in Round 5, 1934 at Unley oval - as reported in The Advertiser of that time:
Johnston, in this quarter, provided one of the highlights of the match. Apparently he forgot that he was playing on a half-back flank and not in the ruck, for he battled hard to gain possession, turned, and on the run from 40 yards out kicked a fine goal - between the wrong goal-posts - thus adding a behind to Sturt's score.
See also Gallery George Johnston
References
2. The History of the Magarey Medal, 1988, John Wood.