David Grenvold
From Snoutslouts
Glenelg Career Highlights
Other Career Highlights
Essendon (VFL/AFL) 1989 - 1996
Premiership player 1993
Represented South Australia 1993
* Stats current to end of 2009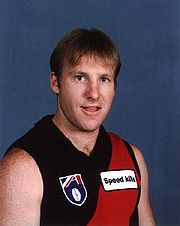 Biographical
Born: 6 March 1966
Height: 180 cm
Weight: 88 kg:
Recruited from: Bordertown
Previous Club:
GFC League Debut: 1984
Guernsey Number: 43
Career
David Grenvold was a solid defender for Glenelg when it was a powerhouse side in the 1980's.
Grenvold went to Essendon in the VFL in 1989, and became one of Essendon's most reliable players.
Grenvold played in the backline for Essendon and appeared 122 times for the club, including in their 1993 Grand Final win. He also represented South Australia in 1993.
After a dreadful run with injuries in 1996 he left Essendon and resumed with Glenelg in 1997, before finally retiring after 1999 season.
References
1. Pride of the Bay
2. SA Football Times Year Book 1988
3. SA Football Budget 24th May 1986