William Mills
From Snoutslouts
Glenelg Career Highlights
Other Career Highlights
West Adelaide 1910-1915, 1919-1921
Life member West Adelaide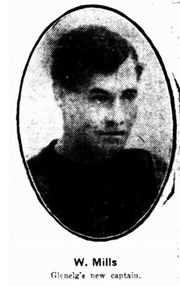 Biographical
Born: 22 October 1892, Launceston
Height: 170 cm
Weight: 68 kg
Previous Club: West Adelaide
GFC League Debut: 1923
Guernsey Number:

William Thomas Mills played in the back pocket for Glenelg. He had also played in the ruck and most other positions on the field during his football career.
He first played football in Tasmania, and later joined up with the West Adelaide Club, for whom he played for 13 years. He was vice-captain of the team in 1921.
Mills had served in World War I, enlisting twice. The first time, 1915, he made it as far as the middle East when he injured his back severely enough that he was sent back to Australia for discharge. The second time, 1918. he was enroute to Europe when he had an epileptic seizure and was once again sent home and discharged.
Nonetheless he resumed with West post-War and then took up with Glenelg in 1923.
He played 11 games of the 1923 season but was unfortunate enough to break his arm. Then in 1924 the players - as was the system at the time - voted him as Captain at the start of the season.
For the Glenelg side Mills was a good looking choice for Captain, bringing with him years of experience from West Adelaide. In the event he played only 13 League games for the Seasiders, abandoning the Captaincy to Cyril Hoft and retiring after only 2 matches in 1924. Whether it was due to physical incapacity or the result of soul-searching after a tremendous 105 points drubbing in Round r from Sturt was a matter of some conjecture.
The resignation of Mills, their newly appointed captain on Wednesday, will naturally give, rise to much keen discussion in football circles. Mills, it is stated, was some time ago advised by his doctor, to give up the game, as he was not in a fit condition to take up such violent exercise. The injury to his ribs, from which Mills has been suffering all this season, has naturally not enabled him to give of his best — he has played all through with plasters on his back — and he probably thought that it would be in the interests of Glenelg Club if he resigned from the game and made way for a fitter man. Possibly, as the rumour has it, the state of affairs in the club also had something to do with it, but Mills, it is stated, has retired from the game for good, owing to his injuries.
Mills' resignation was reported by The Register on 26 May 1924:
References
1. Pride of the Bay