Cyril Hoft
From Snoutslouts
Glenelg Career Highlights
Other Career Highlights
North Fremantle (WA) 1914
Perth (WA) 1915 1916, 1919 - 1923, 1928
Sandover Medal 1921
Represented Western Australia 1921, 1923
* Stats current to end of 1928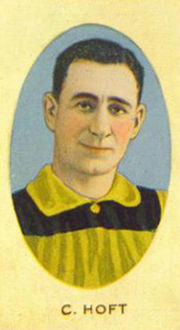 Biographical
Born: October 1897, Perth
Height: 177 cm
Weight: 63 kg
Recruited from: Perth
Previous Club: North Fremantle
GFC League Debut: 1924
Guernsey Number:
Career
A talented, extremely pacy centreman, Cyril Louis Hoft was particularly renowned for his strong high marking and prodigious place kicking. He played chiefly in Western Australia, but spent four seasons playing with Glenelg during its formative years.
Cyril Hoft began his league career with North Fremantle (now defunct) for whom he played 11 WAFL games in 1914 before joining Perth, where he played in 1915 and 1916.
He spent the next couple of years undertaking military service overseas, and was Wounded In Action in France twice. During World War I he participated in the "Pioneer Exhibition Game" in London. On Saturday October 28, 1916, the former Olympic champion swimmer and the later Lord Mayor of Melbourne, Lieutenant Frank Beaurepaire, organised an Australian Rules football match between two teams of Australian servicemen in aid of the British and French Red Cross.
On return to Australia he resumed his league career in 1919 with Perth. He tied for the inaugural Sandover Medal with Subiaco's Tom Outridge, only for the award to be conferred on the Maroons man on the casting vote of the league president. In 1997 the league made retrospective awards to all players who had originally been deprived of a Medal in such circumstances. He was a member of Western Australia's triumphant Perth carnival team of 1921, and also played in the match against South Australia in Adelaide two years later. During that game he sustained an eye injury and had to remain in Adelaide for treatment.
For reasons which are unclear, he elected to settle in South Australia, and the 1924 season saw him lining up with Glenelg in the (then named) SAFL. He had a highly auspicious debut season, taking over the Glenelg captaincy from William Mills two rounds into the season, representing South Australia at the Hobart carnival, and winning the club's best and fairest award. In 1925 he was appointed captain-coach and, in the opening round of the season, had the immense satisfaction of leading the club to its first ever league win at the expense of reigning premier West Torrens. Hoft remained at Glenelg for another couple of years, playing a total of 56 senior games, and earning carnival selection again at Melbourne in 1927.
In 1928 he returned home to the west where he played one final season with Perth, taking his total number of games with that club to 88.
References
1. Pride of the Bay
2. spiritus-temporis.com : Exhibition game WWI
4. National Archives - WWI records