Tom Logan
From Snoutslouts
Career Highlights
Other Career Highlights
Brisbane Lions (2004 - 2005)
Port Adelaide Power (2006 - 2014)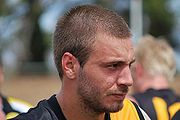 Biographical
Born: 2 July 1985
Height: 183 cm
Weight: 83 kg
Previous Club: Brisbane Lions (AFL)
GFC League Debut: 2006
A Glenelg junior, Tom was drafted by AFL club Brisbane Lions in 2003. Upon his delisting in 2005 he returned to South Australia and Glenelg, and was picked up (initially as a Rookie) by local AFL club Port Adelaide Power. He played in Port Adelaide's losing 2007 AFL Grand Final side.

At the end of the 2013 season Logan, along with other AFL listed players, left Glenelg following the formation of SANFL "reserves" teams in the SANFL for Adelaide and Port Adelaide AFL clubs.
Renowned for his insatiable work ethic and unconditional toughness, Logan added 114 games with the Power to the three he played with Brisbane. He was delisted at the end of 2014, but continued his involvement with their SANFL side in 2015 as Port had rookie listed him to help mentor their younger players. He continued working with Port's Academy team (their reserve's reserves), then decided to move on.
Logan played the 2016 season at Lucindale in the state's South-East at the club where his brother was coaching. And in 2017 while still with Lucindale they won the flag - Logan's first Premiership he'd ever played in.
References
2. Glenelg Football Club 2010 Annual Report and Yearbook