Ted Robjent
From Snoutslouts
Career Highlights
GFC League Player Number: 214
GFC League Debut: Round 1, 1938
Best and Fairest 1947
Glenelg Hall of Fame

* Stats current to end of 1950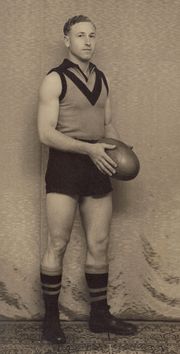 Biographical
Born:
Height: cm
Weight: kg
Recruited from: Woodside
GFC League Debut: 1938
Guernsey Number:
Career
Ted Robjent was a hard-as-nails defender/follower and outstanding team man who played 150 games between 1938-50 and kicked 29 goals. He won the best-and-fairest award in 1947 when he also won the most consistent player award. He was best allround player in 1949.

Allan "Bull" Reval, remembered as one of the toughest footballers in SA history when at Port Adelaide, coached Robjent at Glenelg in 1949 and said: "I was a creampuff footballer compared to Teddy Robjent."

A serious knee injury ended Robjent's career late in the 1950 season, meaning he missed out on his first chance of playing finals footy. The photo of him being carried off was his 150th and last game.
Magarey Medallist and journalist Jeff Pash described Robjent in July 1950:
One thinks of Glenelg as a vigorous and hard-hitting side. ... Robjent, in particular, is a source of inspiration to his team. There are few players who tackle with such strength, few with such a seemingly ferocious pre-occupation with the ball. He is one of the "stiffening" elements in the Bays. The prospect of defeat seems to arouse a deep, combative urge, which his position as follower allows him to communicate to others.
See also