Rex Voigt
From Snoutslouts
Career Highlights
GFC League Player Number: 550
GFC League Debut: Round 10, 1967
Best and Fairest 1970
Premiership player 1973
Represented South Australia

* Stats current to end of 1979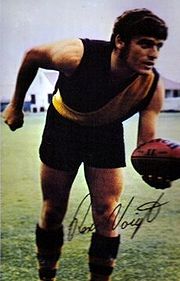 Biographical
Born: 7 March 1947
Height: 174cm
Weight: 75kg
Recruited from: Loxton
GFC League Debut: 1967
Guernsey Number: 10
Nickname: Noddy

Recruited from Loxton, and popularly known as 'Noddy', Rex Voigt was a tremendous player for Glenelg in 258 league games between 1967 and 1979. He also represented South Australia once.
Most of his initial football was played as a rover when his powerful physique enabled him to compete strongly in the crushes. He was also excellent near goal, and many of his 258 career goals, which included 7 in a superb performance in the 1973 grand final, which Glenelg won, were kicked during his roving phase.
Later, however, he transformed himself into a strong, rebounding back pocket player who was without doubt one of the best in the business.
In 2002, 'Noddy' Voigt, who won a club best and fairest award in 1970, was named as an inaugural member of Glenelg's official Hall of Fame.
See also
References
1. Pride of the Bay
3. GFC publication: 1969 Tiger Souvenir