Percy Perry
From Snoutslouts
Glenelg Career Highlights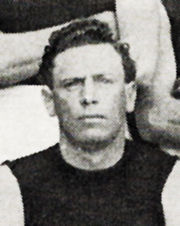 Biographical
Born:
Height: cm
Weight: kg
Previous Club: Moonta
GFC League Debut:
Guernsey Number: 1921
Percy Perry was one of the more talented members of the early Glenelg sides which consistently provided other league teams with hefty boosts to their percentages. Hailing from Moonta, he was courted by several league clubs, but chose to throw in his lot with the Bays as they prepared to take their senior grade bows in 1921.
A strong and vigorous half-back, in six with Glenelg Perry played a total of 79 games and won the club's best and fairest award twice, in 1922 and 1923. He represented South Australia once.
Percy Perry was the only member of Glenelg's inaugural league 18 in 1921 to take part in the club's historic first ever league win four years later, and in recognition of this he was presented with a wicker armchair by club president Frank Smith.
References
1. Glenelg FC
2. Pride of the Bay