1921
From Snoutslouts

1921 was the first season in which Glenelg competed with a League side. Some notable events during the year are highlighted below, however the year was without success on field, the side finishing winless for the year.
Premiership Tables
1921 FINAL LADDER
POS
TEAMS
1
PORT ADELAIDE
2
NORWOOD
3
SOUTH ADELAIDE
4
STURT
5
NORTH ADELAIDE
6
WEST TORRENS
7
WEST ADELAIDE
8
GLENELG
1921 END OF MINOR ROUND
POS
TEAMS
P
W
L
D
Pts F
Pts A
%
PTS
1
PORT ADELAIDE
14
12
2
0
1257
691
64.53
24
2
STURT
14
9
5
0
926
816
53.16
18
3
NORWOOD
14
9
5
0
976
898
52.08
18
4
SOUTH ADELAIDE
14
8
6
0
1040
879
54.19
16
5
NORTH ADELAIDE
14
7
6
1
849
867
49.48
15
6
WEST TORRENS
14
7
7
0
977
920
51.50
14
7
WEST ADELAIDE
14
3
10
1
781
936
45.49
7
8
GLENELG
14
0
14
0
582
1173
33.16
0
Round 2 14 May 1921 vs Port Adelaide
From The Advertiser Monday 16 May 1921:
Football Spectator Drops Dead
During the match between Port Adelaide and Glenelg on the Alberton Oval on Saturday afternoon Mr. Evan Thomas Morgan, of Dockville, Port Adelaide, fell dead. He was watching the game from one of the mounds in company with his son. The police removed the body to the morgue, and the by standers took charge of the boy. Mr Morgan was employed as a driver by Messrs. D. & J. Fowler.
Round 3 - First Home Match - 7 May 1921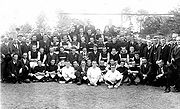 Sir Archibald Weigall, Governor of South Australia, started the first league football match played at Glenelg Oval by bouncing the ball,
21 May 1921
. He opened the new stand on the same day. The league was then known as the South Australian Football League (SAFL), changing its name to the South Australian National Football League (SANFL) in 1927.
Glenelg hosted North Adelaide, then playing in their hooped guernsey.
From the Observer 24 May 1921:
OPENING OF THE GLENELG PAVILION
There was a crowd of about 3,500 people at the Glenelg Oval on Saturday afternoon, attracted thereto, not only by the match between the local team and North Adelaide, but also owing to the performance by His Excellency the Governor of the official opening of the new pavilion. His Excellency said he was only too delighted to have the opportunity to declare the magnificent pavilion open. He had been long enough in South Australia to say with perfect truthfulness that any healthy and clean sport of any description would always have his enthusiastic support, and, so far as his old age - (laughter) - would allow, his active participation. Football was too quick for him nowadays, but every time he saw the game, he more fully realized that nothing but unity and the absolute sinking of self would ever win a match. No team had a chance without such qualities. In declaring the pavilion open he desired to express the hope that for many years the ground would be the centre of really clean sport in Glenelg. (Applause).
Round Scores
Hint: if the date appears in blue then it links to a Match Report for that Round.
1921
07.05.1921
ROUND 1
Q1
Q2
Q3
Final
WEST ADELAIDE
3.
2.
20
8.
6.
54
11.
9.
75
18.
10.
118
GLENELG
2.
2.
14
4.
2.
26
4.
4.
28
6.
5.
41
ADELAIDE OVAL
14.05.1921
ROUND 2
Q1
Q2
Q3
Final
PORT ADELAIDE
6.
5.
41
10.
10.
70
14.
16.
100
19.
21.
135
GLENELG
1.
1.
7
2.
4.
16
3.
5.
23
3.
10.
28
ALBERTON OVAL

21.05.1921

ROUND 3
Q1
Q2
Q3
Final
GLENELG
1.
4.
10
4.
6.
30
6.
8.
44
8.
12.
60
NORTH ADELAIDE
5.
4.
34
8.
7.
55
12.
11.
83
13.
14.
92
GLENELG OVAL
28.05.1921
ROUND 4
Q1
Q2
Q3
Final
GLENELG
0.
0.
0
5.
1.
31
6.
3.
39
10.
5.
65
NORWOOD
5.
5.
35
8.
7.
55
12.
9.
81
15.
12.
102
GLENELG OVAL
06.06.1921
ROUND 5
Q1
Q2
Q3
Final
GLENELG
1.
4.
10
3.
4.
22
4.
5.
29
5.
6.
36
WEST TORRENS
1.
3.
9
2.
5.
17
2.
11.
23
6.
14.
50
GLENELG OVAL
11.06.1921
ROUND 6
Q1
Q2
Q3
Final
GLENELG
1.
0.
6
1.
3.
9
4.
4.
28
5.
5.
35
SOUTH ADELAIDE
3.
8.
26
5.
11.
41
7.
15.
57
9.
17.
71
GLENELG OVAL
18.06.1921
ROUND 7
Q1
Q2
Q3
Final
STURT
5.
4.
34
6.
5.
41
12.
8.
80
16.
12.
108
GLENELG
3.
1.
19
4.
5.
29
4.
7.
31
6.
10.
46
UNLEY OVAL
27.06.1921
ROUND 8
Q1
Q2
Q3
Final
GLENELG
4.
0.
24
6.
0.
36
6.
0.
36
6.
1.
37
PORT ADELAIDE
2.
4.
16
9.
8.
62
15.
16.
106
23.
20.
158
GLENELG OVAL
02.07.1921
ROUND 9
Q1
Q2
Q3
Final
SOUTH ADELAIDE
5.
6.
36
7.
8.
50
12.
13.
85
15.
16.
106
GLENELG
1.
1.
7
2.
5.
17
3.
6.
24
4.
7.
31
ADELAIDE OVAL
09.07.1921
ROUND 10
Q1
Q2
Q3
Final
GLENELG
2.
0.
12
5.
0.
30
7.
1.
43
8.
3.
51
STURT
5.
4.
34
5.
8.
38
8.
10.
58
12.
10.
82
GLENELG OVAL
16.07.1921
ROUND 11
Q1
Q2
Q3
Final
WEST TORRENS
6.
3.
39
13.
10.
88
16.
13.
109
20.
15.
135
GLENELG
3.
2.
20
5.
3.
33
7.
4.
46
9.
7.
61
HINDMARSH OVAL
ROUND 12
BYE
30.07.1921
ROUND 13
Q1
Q2
Q3
Final
GLENELG
0.
2.
2
1.
6.
12
2.
8.
20
3.
9.
27
WEST ADELAIDE
3.
4.
22
3.
4.
22
3.
8.
26
5.
8.
38
GLENELG OVAL
20.08.1921
ROUND 14
Q1
Q2
Q3
Final
NORWOOD
4.
5.
29
11.
9.
75
15.
13.
103
20.
17.
137
GLENELG
2.
3.
15
2.
5.
17
3.
5.
23
5.
7.
37
NORWOOD OVAL
27.08.1921
ROUND 15
Q1
Q2
Q3
Final
NORTH ADELAIDE
1.
3.
9
3.
3.
21
5.
8.
38
10.
15.
75
GLENELG
2.
1.
13
7.
5.
47
7.
6.
48
7.
6.
48
ADELAIDE OVAL
ROUND 16
BYE