Pat Hall
From Snoutslouts
Glenelg Career Highlights
Other Career Highlights
Norwood 1948 - 1952, 1956 - 1957
Represented South Australia 5 times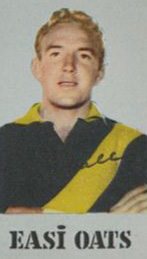 Biographical
Born:
Height:
Weight:
Recruited from: Norwood
GFC League Debut: 1953

Guernsey Number:
Career
Pat Hall made his SANFL debut with Norwood in 1948, a season which culminated in the Redlegs downing West Torrens in the grand final by 57 points. Hall played on a half forward flank that day, booted a couple of goals, and was among his team's best players.
More typically a ruckman than a half forward, he was strong, persistent and tireless, with a knack for kicking vital goals. His initial five season stint at the Parade came to an end in somewhat more disappointing circumstances, however, when he was helpless to prevent a crushing, 108 point grand final loss to North Adelaide in the grand final. Hall was one of Norwood's few good players that afternoon, but is probably better remembered for being the human step-ladder for Ian McKay's gargantuan mark.
In 1953, in what was regarded at the time as a major surprise, he succeeded Johnny Taylor as captain-coach of Glenelg. Aged just twenty-three, it was believed that he still had much to learn in the game, which was undoubtedly true, but it did not prevent him from steering the Tigers to 3rd place in his first season at the club. Fortunes declined dramatically in 1954, however, and the team's tally of just 4 wins from 18 minor round matches consigned it to the wooden spoon.
Pat Hall was replaced as Glenelg coach in 1955 by Charlie 'Chooka' May, but he remained at the club for one further season as a player.
In 1956, after a total of 47 games for the Tigers, he returned 'home' to Norwood, where he spent the last couple of seasons of his league career, taking his final tally of SANFL games with the club to 98. He also played 5 interstate matches for South Australia.
See also
References
1. "Pride of the Bay."