Nick Stevens
From Snoutslouts
Career Highlights
COACHING CAREER
Other Career Highlights
PLAYING CAREER
Port Adelaide Power, AFL (1998–2003)

PLAYING HIGHLIGHTS
International rules series 2001
AFLPA Best First Year Player, 1998
Carlton vice-captain: 2007–2009
Michael Tuck Medal 2002, 2007
Port Adelaide pre-season premiership side 2001, 2002
Carlton pre-season premiership side 2005, 2007

* Stats current to end of 2013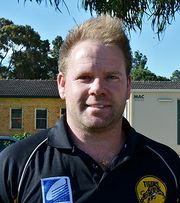 Biographical
Born: 3 January 1980
Height: 180 cm
Weight: 85 kg

Originally from St Marys in the VMFL, Nick Stevens was recruited in the 1997 AFL Draft to the Port Adelaide Football Club where he became a very prominent outside midfielder. In 1998, he was awarded the inaugural AFLPA Best First Year Player award.
At the end of the 2003 season, Stevens expressed a desire to return to his native Melbourne and wished to be traded to Collingwood. Port Adelaide was unable to obtain what it considered appropriate trade consideration and as a result, Stevens quit the club and entered the pre-season draft. He was subsequently drafted by Carlton with the second selection in that draft.
Stevens was named vice-captain of the club in 2007, a position he held until his retirement.
In total he played 231 AFL games, and scored 139 goals,
Following retirement as a player Stevens gained experience as an assistant midfield coach at AFL club Richmond. He also coached Victorian Under 18 side Gippsland into the finals in 2012 and 2013 and took charge of the NSW/ACT Under-18 side at the AFL National Championships in 2011. He was appointed as senior coach at Glenelg after Kris Massie's contract as coach was not renewed after season 2013.
References