Laurence Angwin
From Snoutslouts
Career Highlights
Other Career Highlights
Carlton (AFL 2003-2004) 4 games, 6 goals

* Stats current to end of 2009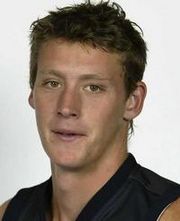 Biographical
Born: 07 Oct 1982
Height: 200 cm
Weight: 97 kg
Recruited from: Bonbeach/Dandenong U18's
Previous Clubs:
Adelaide (AFL 2000-2002)
Carlton (Afl 2003-2004)
Guernsey Number:
Nickname:
Career
The grandson of former Hawthorn Peter Crimmins Medallist Andy Angwin,[2] Angwin was drafted by Adelaide Football Club in the first round of the 2000 AFL Draft. Angwin lasted only 2 seasons with Adelaide, facing injuries and emotional issues, and returned to Melbourne.
Angwin was drafted by Carlton in the 2002 Rookie draft and he made his AFL debut in Round 14 2003. By the end of the 2003 AFL season Angwin was considered a future star at Carlton. However, continuing off-field problems, including charges being laid against him from stealing from team mate Karl Norman, meant he remained a controversial player.
In 2004 it was claimed that Angwin and Norman arrived at a Carlton training session under the influence of Ecstasy. While Norman admitted to taking the drug, Angwin denied it but a subsequent drug test proved positive and Angwin was sacked by Carlton.
References
1. Wiki Article