Kevin Rowe
From Snoutslouts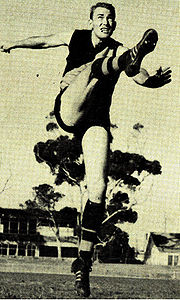 Biographical
Born: 1943
Height: 189cm
Weight: 89kg
Recruited from:
GFC League Debut: 1961

Guernsey Number: 21
Nickname: "Catcher"
Kevin Rowe was a powerful leading full forward with a strong kick.
He had a breakout year as Glenelg's full forward in 1963, winning the club's leading goal kicker award with 43 goals. He finished the season with a 10 goal performance against South, from a great display of high marking, straight-leading and accurate kicking. But in that game he damaged a knee, resulting in the removal of a cartilage. He then had more trouble with another cartilage. Apart from occasional appearances he could not make the grade back to permanency in the league side.
He had decided to accept a position coaching in the country in 1967 but new coach Neil Kerley talked him into staying. He was a late inclusion onto the league side against Torrens in Round 7, where he kicked 3 goals. In Round 14 against Central he kicked 6 goals from 19 possessions. But he struggled thereafter as the Bays pursued other attacking options and in 1968 he played largely in the Reserves, winning the Magarey Medal in that grade.
References
1. "Pride of the Bay"
2. GFC publication: 1969 Tiger Souvenir
3. Football Budget 29 July 1967