Kerry Hamilton
From Snoutslouts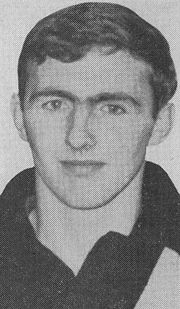 Biographical
Born: 1948
Height: 176
Weight: 83kg
Recruited from: Loxton
GFC League Debut: 1967
Having been recruited from Loxton, Kerry Hamilton made his league debut with Glenelg in 1967.
The Tigers at the time lacked tall forwards and Hamilton, despite standing only 179cm in height, was required to play most of his 14 games for the year at full forward. The ostensible reasons were that he was quick, and possessed a good leap, but he found the going extremely tough. Things improved in 1968, however, when he was shifted to a half forward flank, where his pace, strength and elusiveness came to the fore, and in 1969 he was a serviceable member of the side that reached the grand final, only to lose heavily to Sturt.
Hamilton spent the 1971 season back in the country, and when he resumed the following year he seemed lethargic and was clearly carrying a fair amount of excess weight. After a mediocre season, coach Neil Kerley challenged him to knuckle down in 1973, or risk ending up on the football scrapheap. Hamilton's response was little short of sensational: playing in the centre, he was dynamic, authoritative and inspirational - and arguably the single biggest reason behind the Bays' surge up the ladder from 6th place in 1972 to a resounding and thoroughly deserved premiership success (reviewed here). At season's end, Hamilton won Glenelg's best and fairest award by a 'country mile' from another Loxton boy, Rex Voigt.
After two more seasons in the big time, Kerry Hamilton called it a day. He had played a total of 120 SANFL games, and booted 98 goals. Somewhat surprisingly, especially given his immaculate form during 1973, he never represented the state.
See also
References
2. "Pride of the Bay"
3. SANFL 1973 Grand Final Football Budget