John Seebohm
From Snoutslouts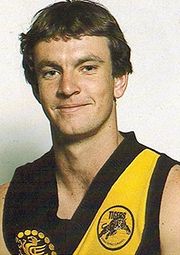 Biographical
Born: 6 April 1960, Mt Burr
Height: 191 cm
Weight: 84 kg
Recruited from: Mt Burr
GFC League Debut: 1978
Guernsey Number: 31
John Seebohm ranks as third on the Glenelg all-time League games played list with 319 games covering the golden period of 1978 to 1992.
Playing with distinction at either end of the ground during his career, Seebohm was a member of both 1980's premiership sides.
Harry Kernahan in August 2005 at the 20th reunion of the team 1985 reunion:

"We recruited John Seebohm from the southeast and people said it wasn't a great choice.
OK I accept he only played 350 games of league football and two premierships. I accept he could only play two positions centre half forward and centre half back. I accept he didn't say much to the coach or yell in the rooms beforehand and get stirred up and I accept he never bagged a team mate or took a cheap shot at an opponent.
But he did go in and get the ball didn't he?"
See also
References
2. 1981 Grand final Budget