Doug Long
From Snoutslouts
Career Highlights
Other Career Highlights

* Stats current to end of 2009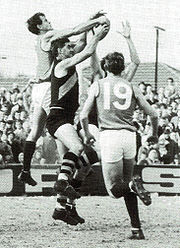 Biographical
Born: 28-Mar-1940
Died: Feb-2009
Height: 193 cm
Weight: 94 kg
Recruited from: Geelong (VFL)
Previous Club: South Gambier
GFC League Debut: 1962

Guernsey Number:
Career
Doug Long started his senior football career with South Gambier in 1955 aged just 15 and played two full senior seasons before joining Geelong in the (then) VFL. He returned to South Australia at age 22.
Long coached Glenelg in 1962-63, finishing fifth and seventh respectively and remained with the club as a player until the end of 1969, before retiring after 135 games.
He represented South Australia seven times and in 2006 he was inducted into Glenelg Football Club's Hall of Fame.
He was aged 17 years and 25 days on his VFL debut. Teammates of his era at Geelong included John Devine, Alistair Lord, Colin Rice, Fred Wooller, Doug Wade, John Yeates and Bill Goggin and he was coached by Reg Hickey and Davis. Former Geelong coach Bob Davis paid tribute to Long, saying "He was a good size, very strong and determined and took a good mark. We were on the lookout for good big men and I remember he played very well in the team which won the 1961 night final."
See also
References