David Bradley
From Snoutslouts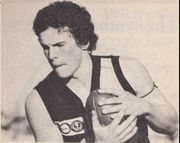 Biographical
Born: 16/1/59
Height: 182
Weight: 83
Recruited from: Kybybolite
Previous Club:
GFC League Debut: 1977
Guernsey Number: 29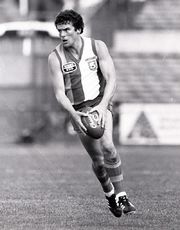 Career
Andrew David Bradley played his early football mostly with home town Kybybolite, although he did claim the best player award with Ballarat College in 1976. He moved to Adelaide in 1977 with his teaching studies and quickly moved up to league ranks, playing off the half back flank. He missed selection for the 1977 Grand Final against Port Adelaide as a result of spraining his ankle in the final minutes of the Preliminary Final against West.
In 1983 he was selected in the inaugural SA Country Team that played WA Country at Subiaco Oval. He played the same fixture again in 1985, this time with a win.
He is the father of Andrew Bradley and brother of Phillip Bradley
References
1. "Pride of the Bay"
2. 1981 Grand Final Budget
3. Football Times 1982 Year Book