Ben Mules
From Snoutslouts
Career Highlights
GFC League Player Number: 894
GFC League Debut: Round 13, 2002
Captain of Glenelg 2006 - 2011
Best Team Man 2005 and 2007
Players Player 2005 and 2007
Runner up Best and Fairest Award 2007

* Stats to end of 2013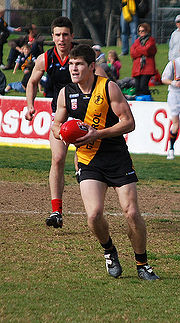 Biographical
Born: 30 August 1982
Height: 182 cm
Weight: 83 kg
Recruited from: Kalangadoo
GFC League Debut: 2002
Guernsey Number: 34
Ben Mules grew up in Kalangadoo, situated in the club's South East recruiting zone, before moving to Glenelg in 2002.
A solid defender, Mules has become a highly regarded member and leader of the team. He was awarded both Best Team Man and Players Player award in 2005 and 2007 and was also Runner up in the Best and Fairest Award in 2007.

At the end of 2011, Ben stepped down from the Captaincy, thus ending a six year span as Captain which equalled Peter Carey's 6 year run, and only behind club legends Peter Marker who served 7 years as Captain and Nick Chigwidden who served as Captain for 8 years.
References
2. Glenelg Football Club 2010 Annual Report and Yearbook