Alex Donaldson
From Snoutslouts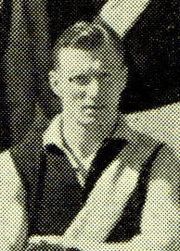 Glenelg Career Highlights
Other Career Highlights
Biographical
Born: 1924 (?)
Height: 182 cm
Weight: 80 kg
Recruited from:
Previous Club:
GFC League Debut: 1947
Guernsey Number:
Career
Alexander Donaldson was a gifted, somewhat mercurial footballer whose every movement exuded grace and panache, but who sometimes let himself down by apparent lapses in concentration. At his best he was among the most damaging players of his generation, as he proved by winning Glenelg's best and fairest award in 1948.
His career at the Bay comprised 63 games between 1947 and 1951. In 1951 he was dropped from the league training list for not playing in the Association (ie Reserves) side, instead travelling to Moonta to watch the league side play. Nonetheless he continued on at the Bay, and in 1952 he Captain/Coached the Association (ie Reserves) side.
Unable to make the training list at Glenelg in 1953 he then had a 28-game stint with Sturt in 1953 and 1954.
He played twice for South Australia, kicking three goals.
References
1. Pride of the Bay