Wally Steele
From Snoutslouts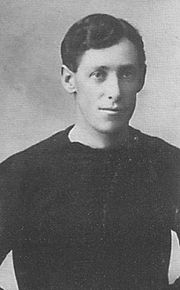 Wally Steele was a skilled rover who commenced his league career with Norwood, playing 35 games between 1910 and 1913.
In 1914 he ventured across the Nullarbor, hoping to front up with Subiaco, but the South Australian authorities refused to sanction his clearance, and he was forced to spend a season on the sidelines. Once the clearance was granted a year later, however, it soon became evident that the Maroons had unearthed a gem, as Steele performed with consistent brilliance to captain the side to a flag.
An inspirational footballer and a natural leader, he served as Subiaco captain-coach from 1917 to 1920, and again for part of the 1922 season. He was also the club's playing coach, but not captain, in 1921. As a player, he was renowned for his elusiveness and guile, and won a fairest and best award in 1920.
If Wally Steele's coaching prowess was sometimes questioned, particularly later in his career, he was nevertheless without doubt one of the great figures in Subiaco's early history, playing 120 games between 1915 and 1923, most of them with great panache and effectiveness. He also played 4 state games for Western Australia, with the undoubted highlight coming when he kicked the match-sealing goal against his home state in the decisive match of the 1921 Perth carnival.
In 1924 he crossed to the Perth club where he added 28 league games in two seasons before returning home to South Australia in 1926 as non-playing coach of North Adelaide. In his three season stint in charge he steered the side to 4th, 2nd and 4th place finishes.
His final involvement in league football came in 1940 when he assumed the coaching reins at Glenelg, but after a dismal year that yielded just 3 wins from 17 matches he stood down in favour of Ray Curnow.
References