Tony Symonds
From Snoutslouts
Career Highlights Player
GFC League Player Number: 661
GFC League Debut: Round 12, 1981
Glenelg 1981 – 1986, 1988 - 1992
Glenelg premiership player 1985 - 1986
Glenelg Hall of Fame, inducted 2007
Career Highlights Coach
Glenelg 1995 - 1996

finished 7th both seasons
Career Highlights Hawthorn
Hawthorn 1987
Drafted 1986, National Draft, pick 65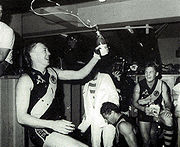 Biographical
Born: 15 February 1962
Height: 185 cm
Weight: 72 kg
Recruited from: Sacred Heart College
GFC League Debut: 1981

Guernsey Number: 9

Anthony 'Tony' Symonds was a regular fixture of the Glenelg team of the 1980s, playing mostly as a wingman. He was a member of both Glenelg's 1985 and 1986 premiership teams.
Using the last pick of the 1986 VFL Draft, Hawthorn acquired his services for the 1987 VFL season and he made his league debut in the opening round, with four disposals against Carlton. His next appearance came two weeks later, in a win over Collingwood, where he had 9 disposals and kicked two behinds. At the Sydney Cricket Ground in round seven, he played his third and final game, kicking a goal and managing 10 disposals.
After leaving Hawthorn, Symonds continued his career at Glenelg retiring in 1992. In 1995 he was appointed senior coach, as a replacement for Mark Williams, whom had joined Essendon as an assistant. His coaching career started well with a 92 point win over Port Adelaide in the season opener but Glenelg could only finish the year in seventh. Again in 1996, the club finished in seventh position and he lost his job to former team-mate Wayne Stringer.
See also
Reference