Tom Gleghorn
From Snoutslouts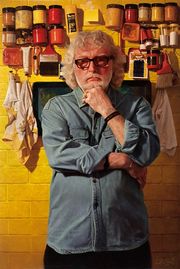 Thomas Gleghorm (OAM) was born in 1925, in Thornley, England. Three years later, he emigrated with his family to the town of Warner's Bay, on the shores of Lake Macquarie in NSW. Thomas worked as an artist designer for Grace Bros, then for Farmers, Sydney, director of Blaxland Galleries, Sydney, taught at the National Art School, Sydney in 1960, was Head of Canberra Art School, Lecturer in Art, the senior lecturer at Bedford Park Teachers College, Adelaide.
For almost 50 years Tom has consistently won a multitude of art prizes; his works are represented across Australia, from regional and state galleries, to National Gallery of Australia. Corporate collections include IBM, ICC, State Bank, Perth, Sydney, London and Hong Kong.
One of Australia's leading artists, honoured with the Medal of the Order of Australia (OAM) for his services to arts as a painter and teacher, Tom Gleghorn has for over three decades given outstanding support to Glenelg Football Club, its players, coaches, administrators and vice-presidents.
Gleghorn had been introduced to the Bay in the 1970s when he was teaching art at the old Underdale College. There he met Graham Cornes who was studying Phys Ed and the footballer invited him to practice to study the human form for drawing lessons. He maintained an interest in the club.
A much-loved, humble character, he has strongly contributed to the club by donating paintings and designing wine labels that have raised substantial funds. Gleghorn was awarded the honour of Great of Glenelg at the Hall of Fame and 1973 premiership and 40th anniversary Dinner held in 2013, making him the 16th of the "Greats of Glenelg".
References
1. http://footyalmanac.com.au/?p=32175 The Footy Almanac, Michael Sexton]