Stephen Copping
From Snoutslouts
Career Highlights Glenelg
GFC League Player Number: 603
GFC League Debut: Round 16, 1974
Glenelg 1974 – 1981, 1985 - 1986
Glenelg Leading goalkicker 1979, 1981, 1985
Glenelg premiership player 1985, 1986
Glenelg Hall of Fame inducted 2004
Played Rep games for South Australia
Fos Williams Medallist 1982
Other Career Highlights
Essendon (VFL) 1982 - 1984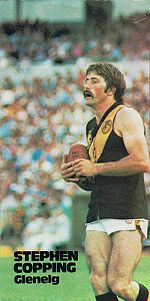 Biographical
Born: 3 August 1956 @ Kingston
Height: 180 cm
Weight: 80 kg
Recruited from: St Peters College
Previous Club:
GFC League Debut: 1974
Guernsey Number: 19

Stephen Copping started his league career at Glenelg in 1974, a strongly built forward, with a great reach and grab.
After finishing as Glenelg Football Club's joint leading goal kicker in 1979 and outright in 1981, Essendon recruited Copping to the VFL and he made his debut in the opening round of the 1982 season.
A South Australian interstate representative, Copping won a Fos Williams Medal for his efforts against Victoria at Football Park in 1982.
Copping returned to Glenelg in 1985 and topped their goal kicking once more with 83 goals and played in their premiership team. Glenelg went back to back in 1986 and Copping again featured in their side. 1986 was his final season for the Bays.
In 2004 he was inducted into the club's 'Hall of Fame'.
See also
References
1. Wiki Article
2. 1981 Grand Final Budget