Richard Head
From Snoutslouts
Career Highlights
Coached Glenelg, 1922, 1923
OTHER
154 games and 22 goals for West Adelaide, Sturt and Glenelg
Captain of West Adelaide, 4 years
Played 37 Interstate matches
Captain of South Australia 1913
Magarey Medalist 1909
In 1931 he became a member of the Umpires Appointment Board & later became Chairman until his death in 1940.
Inducted SANFL Hall of Fame 2002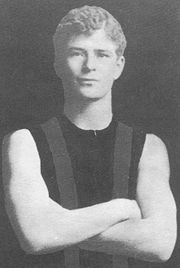 Henry Richard "Dick" Head coached Glenelg in 1922 and 1923.
'Dick' Head made his West Adelaide debut in 1906, and by the following season was regularly being listed among the best players. An excellent mark and a superb kick, he covered so much ground during the course of a game that he "was worth three ordinary men".
At the age of 22, Head was awarded the 1909 Magarey Medal. The following year he was appointed West's vice-captain, and in 1913 he assumed the captaincy. A regular member of South Australian interstate teams, he played in the victorious carnival side of 1911, and was state captain in 1913. Arguably his best season in league football was 1915 when, in a middle of the road West team, he was voted the best all round player in South Australia by readers of the 'Football Budget'.
After a break for the war, Head was back with West Adelaide in 1919, and although he was a touch slower than in his heyday his name still appeared frequently on the best player lists. At the end of the 1920 season he left West and joined Sturt, but managed only 4 games there before calling it a day. The 1922 season saw him appointed non-playing coach of Glenelg but he actually felt constrained to don the boots again midway through the season in a fruitless effort to bolster the side's fortunes. A total of 7 games with Glenelg took his final tally of league games to 154 in 13 seasons; he also represented South Australia an incredible 37 times in an era when competition for places was arguably as intense as at any stage in the twentieth century.
As coach of the young Glenelg side Head was unable to secure any wins - indeed the club did not manage its first League win until 1925.
References