Reg Hopgood
From Snoutslouts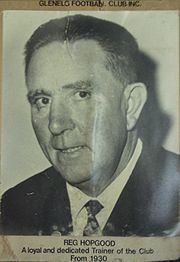 Reg Hopgood served as:
Reserves Trainer 1930 - 1934
Trainer 1935 - 1984
Head Trainer 1935 - 1979

Described in The Pride of the Bay as
"Legendary head trainer who treated countless Glenelg footballers on his dining room table in Bath St. It was not unusual for him to have three to five players at his house at one time, his treatment most often being with thumbs, hot water and towels, and usually very effective."
He was awarded Life Membership in 1944.