Raymond Rocher
From Snoutslouts
Glenelg Career Highlights
Other Career Highlights
Perth (WAFL) 1956
Reserves Best & Fairest 1956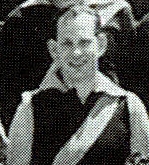 Biographical
Born: 28 September 1932
Height:
Weight:
Previous Clubs: Perth (WAFL), Wynyard (NW Tas)
GFC League Debut: 1957
Guernsey Number:
Career
Raymond Leslie ("Ray") Rocher (1932–1994) found his way to Glenelg courtesy of his employment, playing as a ruck/forward, and leading the Bays goalkicking in 1958.
Ray Rocher was born in Deloraine, Tasmania, and excelled at sport in school. When he was picked in 1947 for the Tasmanian State Schools team for the schoolboys' football carnival in Perth, one newspaper called him 'Tasmania's giant schoolboy': at fourteen he was six feet three inches (191 cm) tall and he weighed thirteen stone three pounds (84 kg). In his first year of senior football at age sixteen, playing for Wynyard, he kicked the most goals in Tasmania's North-West competition.
Rocher began working for the Tasmanian branch of the Australia-wide building company A. V. Jennings Industries (Aust.) Ltd in 1950. This was the beginning of a long career in the building industry. In 1953 he was transferred to Perth, where he played with WAFL side Perth. Although only playing limited League games, he won the club's Reserves best player award in 1956. After five years in the west he moved to Adelaide as State manager for Jennings, and then to Sydney in 1964.
In Sydney his interest in football saw him playing (captain-coach 1962–64) for Balmain. But it was in the building industry where he became best know, with involvement from 1964 to 1992 at the Master Builders' Association of New South Wales (MBA), including as Executive Director from 1974.
References
1. Pride of the Bay (p. 141)