Ray Button
From Snoutslouts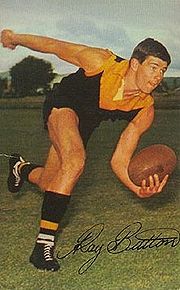 Biographical
Born:
Height:
Weight:
Recruited from:
GFC League Debut: 1963
Guernsey Number: 17
Career
A Ballarat boy who moved with his family to Adelaide when he was fifteen, Ray Button was a mercurial and remarkably gifted Glenelg half forward who never quite managed to fulfil his extraordinary potential.
In 135 games for the Tigers between 1963 and 1972 he booted 245 goals, topping the club's goal kicking list on three occasions (once jointly). His best tally in a game was 11, kicked against Woodville at Woodville in 1967. At his peak during the mid-1960s, Button, who originally hailed from country Victoria, was selected in the 1966 and 1967 'Advertiser' Teams of the Year.
Although technically a half forward flanker, he was typically given freedom to roam wherever he wished throughout the forward lines. A tremendous favourite among Glenelg's supporters, there were times when he seemed to be playing football on a higher plane to everyone else, but equally there were occasions when he barely looked league standard.
See also
References
1. "Pride of the Bay"
2. SANFL Football Budget April 8th, 1972