Peter Carey
From Snoutslouts
Career Highlights
GFC League Player Number: 580
GFC League Debut: Round 12, 1971
Glenelg 1971 – 1988
Captain of Glenelg, 6 years
Member of 3 premiership teams
Three time Best and Fairest for Glenelg
Best on ground 1973 Grand Final (6 goals)
Leading goal kicker for Glenelg 1973
Played 19 games for South Australia
All Australian 1979, 1980
Fos Williams Medalist 1981
Inducted SANFL Hall of Fame 2002
Inducted Glenelg Hall of Fame 2002
Awarded the OAM for services to Australian Rules football in 1989
Inducted into the Australian Football Hall of Fame in 2009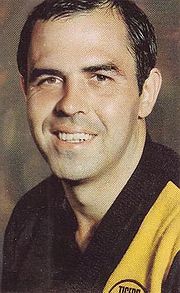 Biographical
Born: 27 January 1954
Height: 193cm
Weight: 102kg
Recruited from: Seacombe High School
GFC League Debut: 1971

Guernsey Number: 5
Peter Carey holds the league record for most games played, with 448 appearances.
Nicknamed 'Super', Carey also represented South Australia on 19 occasions, giving him a total of 467 games at senior level which was a record until Craig Bradley pushed the mark to 501.
Carey played in a variety of roles in his career including centre half forward and ruckman. He won Glenelg's Best and Fairest award in 1975, 1979 and 1981 as well as topping their goalkicking in 1973. From 1983 until 1988 he was club captain, including back to back premierships in 1985 and 1986. He had earlier participated in their 1973 premiership team, with six goals in the Grand Final win over North Adelaide.
In 1981 he won the first ever Fos Williams Medal and for his performances with South Australia he also earned All Australian selection in both 1979 and 1980.
He was named, in 2002, as the inaugural member of Glenelg's Hall of Fame and inducted into the Australian Football Hall of Fame in 2009.
See also
References
2. 1985 SANFL Football Budget