Norm Betson
From Snoutslouts
Career Highlights
GFC League Player Number: 312
GFC League Debut: Round 1, 1946
Glenelg 1946 – 1948
Glenelg Captain 1946, 1948
Glenelg coach 1946 (part-year)
Represented South Australia 1947 - 1948
Other Career Highlights
Essendon (VFL/AFL) 1940 - 1945
* Stats current to end of 2009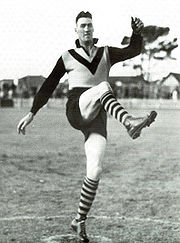 Biographical
Born: 08 July 1914
Died: 05 May 1988
Height: 193 cm
Weight: 92 kg
Recruited from: Essendon
Previous Club: Culcairn
GFC League Debut: 1946
Guernsey Number:
Career
Norman Betson was appointed captain-coach of Glenelg when he came over from Essendon in 1946. Betson was a resolute and canny ruckman. Unfortunately he was beset by injury and in July opted to stand down as coach in favour of Ray Curnow.
In the next two seasons he was injury free, this time was highlighted by his selection in the 1947 South Australian carnival state side that played in Tasmania and in 1948 was South Australian Vice-Captain in the side that narrowly lost to the Victorians in Melbourne. Betson was Glenelg captain in his final league season.
He originally came from Culcairn where he was captain-coach in mid 1939 and, prior to that, he played with Albury. He was a tall, gangling ruckman who had the misfortune of being overshadowed by Essendon's other top ruckmen of the time.
After leaving Glenelg Betson became captain-coach of Nathalia in 1950 before playing with Lemnos in early 1951.
References
2. Essendon FC