Matthew Uebergang
From Snoutslouts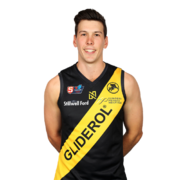 Glenelg Career Highlights
GFC League Player Number: 1096
GFC League Debut: Round 1, 2018
Glenelg 2018
Premiership player 2019
Other Career Highlights
Biographical
Born: 6 January 1995
Height: 194cm
Weight: 95kg
Previous Club: Ipswich, Redlands (NEAFL), Fremantle (AFL), Peel Thunder (WAFL)
GFC League Debut: 2018
Guernsey Number: 21

Matthew Uebergang, growing up in Ipswich, Queensland, only picked up the game of football as a 14-year-old, and quickly had his talent identified by the Brisbane Lions. He played in Queensland's under-16 state side, but then grew tired of heading up and back to Brisbane three times a week for academy training so returned to play local level.
After about two seasons there, he was persuaded to have another go. The Lions academy took Uebergang back and he played NEAFL in 2014. He played in the NEAFL with Redlands in 2015 and was drafted in that year's Rookie draft by Fremantle.
Uebergang played with Fremantle's WAFL affiliate, Peel Thunder, for a total of 12 games, but did not break into the Fremantle side. He struggled with injuries in 2017 and was delisted.
He joined Glenelg for season 2018, playing 15 games and featuring as a forward who could switch back to defence if needed. In 2019 he once again struggled with injuries, but timed his recovery well to be selected in the Bays premiership side. Once again injuries laid him low in 2020 and he did not manage to get onto the field for any games.
References