Matt Duldig Interview 2009
From Snoutslouts
NOT TO BE COPIED without permission from snoutslouts.org and Matt Duldig.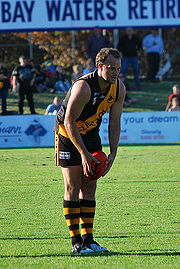 Matt, thanks for agreeing to be interviewed for the Snout's Louts Legends and Larrikins series. You are definitely a crowd favourite on the hill!
First thing, your nick names. During any game we hear, Dogger, Digger and for a while there Fidgey. For once and for all, your nickname is......?.

MD: Mate I actually don't even know what it is – Dulds or Dogger seem to be the most common. However when someone mispronounces my name the boys like to roll with that, things like Dugdale, Dulditch. Although it really is pretty easy to say. Crazy John gets a bit of a run – but have never know why?

Your stats:
94 League Games
164 Goals
7 goals twice in a game, both against North (hooray)
100 Behinds
553 Kicks
314 Handballs
323 Marks
3 Magarey Votes (2 in R8, 2005 vs North when he kicked 7 goals and 1 in R9, 2005 vs Centrals when he kicked 5 goals)
49 wins, 44 losses, 1 draw
You must have some great memories from playing at the Bay. Please tell us about a few of your highlights.
MD: I've some great times at Glenelg over the last 8 years. I still vividly remember my first game of League football. At Glenelg oval against West Adelaide who was going for 13 in a row or something which was a club record, we were obviously struggling down near the bottom. We had a couple injuries early so I probably played a bit more than was expected. I managed to kick 3 goals and miss a few as well unfortunately and we ended up going down by 2 points.
Winning Finals is very exciting – the Sturt Prelim 08 was a great day to put us into a Grand Final.
Playing North Adelaide was obviously good by the look of the stats – kicking 7 against them at Glenelg was fantastic
But I guess my greatest memory and most recent would have to be the Reserves GF – you play footy to play at the highest level and win league GF's but if your gonna win a reserves one you might as well do it like we did. Think I've told the story a thousand times right from the start when the two's were 0-5 to being 41 points down Grand Final day.

How did you end up at Glenelg?
MD: I grew up in South East, Millicent. That is Glenelg's country area. I came up in 2002 with Mules, Panozzo, Allen
Lucky I actually moved over from the Eyre Peninsula when I was 12 – otherwise I may have ended up at Port Adelaide.

There's a story that goes 3 or 4 years ago an AFL club wanted to draft you, but you had not nominated. Any truth to that one?
MD: Yeah there is a little bit of truth in that.
The Adelaide FC was keen to get me out just to train in the pre-season (the year David Noble went out there). Adelaide presumed I was nominated for the draft from my Under 18 year. But that wasn't the case as I did my knee in my under 18 year and didn't play any footy.
So as I wasn't nominated I was unable to train – and that was the end of that.

The best players you played with, against?
MD: At SANFL level I guess you're lucky to play with some AFL players that come back – blokes like Salopek, Carr, Boak and Damian Hardwick was probably the pick of the bunch, he loved playing for us and was just a super bloke.
AFL players aside I've played with some guys that should probably have been playing at that next level. Paul Sherwood genuinely never ever got beaten, even when we were getting smashed some weeks he was always on top of his opponent.
Ben Mules is probably the toughest bloke I've played with – everyone remembers the mark against the Eagles in the Elim final 2007.
Unfortunately the best players I have played against are from Central – Yves Sibenaler use to towel me up almost everytime except once at Glenelg Oval. And love the way Slade goes about it – he just runs all day, similar to an Adam Fisher for us.

Word association
Pre-season – No thanks
End of season Footy Trips – What I played for
Justin McConnell – Freak (more ways than 1)

Is it true you played a season of D Grade Cricket for Glenelg, and did not score one run?
MD: Not sure where you're getting some of this from – I did play at Glenelg for a season in the C Grade and a couple in the B's.
Didn't spend too much time at the crease but did finish with an average of 19 I think.
Actually played at the time Monty Panesar was there – and taught him how to do chin ups and dips one night – not that I could do many myself. That's probably my cricket claim to fame. He was battling at district level for us and all of a sudden he was a cult hero in England playing in the Ashes.

A few funny footy moments that can be shared?
MD: The start of most games can be quite funny when Mulesy goes to toss the coin. Only 1 in 3 weeks will he come back and remember which way we are going.
Lucky it was only a trial game but one year against Centrals we all got out into position and the ball was nearly about to be bounced and Trevor Cranston and big Buckets from Centrals were both standing on the same side. Worst thing playing at full forward I had the biggest run out at Elizabeth to get to the other end.
The game Byron Murphy and Ruory Kirkby got spray tans for a game. It was an ABC game so they thought for a change they would cover up their pasty white skin. Kirkby looked ridiculous but Murphy's they messed up and came out bright Orange. He got most off before the start but still looked very funny.

You played under: Noble, Simmons, (Burgess), Mickan at the club. Describe each one for us?
Noble – He was excellent. Our first full time coach I believe. He put a lot of time in to players needs and worked on their strengths and weaknesses. He'd always get in touch to see how things were and try and get you to do extra sessions. He could also give out some of the best sprays I've ever heard. But I think he would be making a very good assistant at the crows. At the time we were all a little bit bitter that he left as we thought we had come along way underneath him.
Simmons – Think he got thrown into the deep end a little bit. In hindsight probably wasn't ready to coach League Football.
Mickan – has a very good footy brain. Knows what he wants and how he wants to get it. Very thorough in his training, hates having a night off as he thinks others may get a jump on him. Has obviously got us into regular finals football.

Your last game for the club was quite memorable, what are your recollections of that?
MD: It was unbelievable there's no doubt about that. Not only was it the GF but the 3 Elimination finals leading into it were quite amazing. You could write a book or movie about it. As I mentioned earlier I love telling the story to anyone I can. To be dead and buried against Port in the Elimination then Sturt was absolutely flying at us in the first semi and we could only manage 1 goal in the 2nd half but just held on. Then it felt like we did it easy against Central in the Prelim by 14 points I think.
But Grand Final day we were obviously pretty confident after where we had come from and we kicked the first couple and thought things were looking good. Then they were just all over us, I don't think we were playing badly, they were just too good. We had a good chat at half time and you try and stay as positive as possible but its quite hard when you see a GF slipping away. We just had to kick the first couple of goals in the 3rd and we'd be right – but they went bang in the first couple of minutes kicked the first and it was out 41points. We slowed them up for a while but we didn't kick our first goal until about the 18minute mark of the third, so at this stage it was about 35 points down with 6-7 to go in the third. We managed to kick another quick one and all of a sudden you looked around and the boys were up and about. We got the margin back to 14 I think at the break and we were very confident with our tails up.
It was a bit of a battle early in the last but we managed to hit the lead with about 10 to go. Then with I reckon 5 minutes left they kicked only their 2nd goal of the half to get back in front and all I could think was this fairy tail that could have been isn't going to happen. But the boys just didn't give in and we won in the end easily by a couple of goals.
You asked for my recollections mate – I could re-run the whole game for you. Where as the 2008 loss in the league I could barely tell you anything I remember.
But after that siren went was the best feeling I've ever had. And I tell ya the next 4 days were pretty special. Actually the next month or so was pretty good also.

Who does you think will be a league regular from the Ressies this year?
MD: Jarrod Kellock got his taste late in the year and I would be surprised if he doesn't play most games in 2010.
We've got some good talent coming through from the under 18's premiership, if Craig Pitt doesn't get drafted I'll think everyone will get to know him pretty quickly.
Also another Millicent star is going to play some league footy this year – Patty Contin
Watch out for Angus Lally also after settling back in late last year with his knee he'll be ready to go.

There were times when many supporters thought you should have been in the League side when you were playing Reserves, particularly in 2007 and 2009. Do you think you were hard done by?
MD: Its hard to say I was hard done by I think.
I think the coach just had his opinion of me at times and that didn't allow me to fit into his 21.
Was it frustrating? Absolutely, all ya want to do is play league football especially when you know you are capable of it.
But Mark had his reasons I guess as why I was dropped early in the year.

Most of your (statistically) dominant games were in 2005 and 2006 before Kirkby, McConnell and Grima became regulars in the Glenelg forward line. Did you find it harder to play in games when you were not the number one marking forward in the team?
MD: In those years I guess I was predominately the key forward and a lot of ball came through me.
With those guys you mentioned coming on board the amount of ball I am going to receive is without doubt going to lessen. But having the calibre of player those guys were in the forward line took a lot of pressure off any of us to have to dominate to win a game. One of us would generally pop up a kick a few while the others would chip in with a couple each. It was a pretty dangerous forward line at times.
Although a lot of games it was hard to get the footy. Because Macca just does not know how to pass the ball inside about 90m.

And is there any truth in the rumour that not only did you know Kasey Chambers but as a youngster but you were 'romantically' linked to her for a 'little while'?
MD: It almost got to the point that I had to cut ties with Kasey, she was becoming a touch obsessive.
Still receive a xmas card from her each year.
Although now I wish I did pursue it because it may have been me on the Rattlin bones CD instead of Shane Nicholson, I can sing as well.

You have just been appointed to a new role for the SANFL. Are you able to tell us briefly what some of your duties will be?
MD: Haven't been here long and is going to be a good new challenging role.
My main role I guess is to answer a lot of questions and queries from the 9 SANFL clubs.
Basically the administration of the SANFL competition. Making sure everything is run above board.
I would also like to thank you guys for your support over the past 8 years, and I look forward to seeing you at games throughout the year and possibly back at the club in the future.