Mark Stone
From Snoutslouts
Career Highlights
Other Career Highlights
PLAYING
Riverina Football League's Quinn Medal (B&F)
Premiership player Wagga Tigers
COACHING
Wagga Tigers premiership coach (Riverina FL)
West Coast (AFL) Stoppage and Opposition Analyst from 2003-'07
Sydney (AFL) Assistant and Stoppage Coach from 2008-11
Fremantle (AFL) Assistant Coach from 2012-17

* Stats current to end of 2020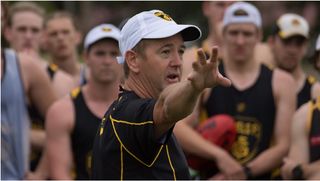 Mark Stone is Glenelg's fourth Premiership-winning coach, triumphing in 2019 to end a 33 year title drought for the Club. He instilled a professional, accountable approach into a talented group of players and showed the benefits of his highly rated AFL experience as a analytical and strategic coach.
Early Years
Like the other males in his family, Stone played his first football with the local Tarrawingee (Vic) Magpies. Stone's first job, with Westpac, took him to Wodonga. He had lined up in several games for the Bulldogs' Thirds and had just made his senior debut, when he was belatedly suspended by the O & M for being an unregistered player.
"Some-one had overlooked the paperwork," his father Jim recalls. "So he headed out to Howlong (NSW) for a season."
By this time, he had scored employment with an Automotive Finance company in Melbourne, and joined Amateur team, Powerhouse (he won his Division's Pepper Medal), followed by a couple of seasons with Ormond Amateurs.
He travelled back to play with Wangaratta for three years, had a stint with Moe, then joined Eastern District League club Ringwood, under former Benalla boy John Lamont.
Stone's next move in employment took him to the Riverina, where Terry Daniher had turned Wagga Tigers into a classy unit. Friend and foe alike, admired the inimitable 'T.D', and Mark, who hit it off with him a treat , shared in a flag triumph and took out the Riverina F.L's Quinn Medal.
In his first term as Daniher's successor, he led the Tigers to another premiership. He was looking for a sea-change at the end of the following season, and responded to an advertisement from WAFL club South Fremantle , who appointed him Assistant-Coach.
AFL
Stone then spent 15 years as a coaching assistant in the AFL. He was West Coast's Stoppage and Opposition Analyst from 2003-'07, under John Worsfold, and took over as a Sydney Assistant and Stoppage Coach under Paul Roos, from 2008-11.
He headed back to the West in 2012, when Fremantle snapped him up as an Assistant.
He held a variety of positions in his six years with the Dockers, including midfield, forward-line and stoppage coach, and was one of Ross Lyon's longest-serving off-siders. But he felt it was time to explore other options, and he informed Freo that he'd be leaving when his contract expired in October 2017.
Glenelg
In December 2017 Stone was appointed Glenelg Senior Coach, following the abrupt departure of Matthew Lokan in November that year.
Mark Stone came to Glenelg at a time when the Club was under some pressure. Having recently navigated it's way past a financial crisis that threatened the very existence of the Club, in November 2017 it found it's Senior Coach leaving to take up an appointment with rival club, the Port Adelaide Magpies (ie Port Adelaide AFL's Reserves team). Despite the shorter than usual time to instill his coaching into the players, Stone made progress throughout his first season, such that the team won the last 6 games of season 2018, just missing out on playing Finals.
The 2018 season was a taste of the attacking, flow-on style of play that characterised season 2019. After a narrow loss to Norwood in Round 1 the team strung together a series of wins and even managed 2 draws during the season, only losing to South and then Sturt, in a final Minor Round match with no impact on Glenelg's Finals campaign.
In Glenelg's first Finals campaign sine 2009 Stone just failed to get his team over Port in the 2nd Semi-Final. They comfortably accounted for Adelaide in the Preliminary Final and then in the Grand Final Stone demonstrated his superior tactical skills, outpointing Port in all the areas that had caused Glenelg problems a fortnight before.
References